Refreshed from an easy second day in Prague, we decided to spend Day 3 exploring the Astronomical Clock located in the Old Town of Prague. This walk took us through a much more busy shopping district toward Old Town and it was interesting to see the incongruity of these magnificent old buildings and quaint shops mixed in with large retailers like H&M, Starbucks, and McDonald's. This was definitely not the same Prague that I saw 16+ years ago during which my friends and I found that few people spoke any English and nothing catered to the Western tourist.
Marionettes in Prague
The streets were filled with tourists as we made our way to Old Town and we stopped to drool at a few of the gelato vendors. I promised the kids that if they were good, we'd get some after lunch. We also stopped in a lovely marionette shop. Prague is famous for it's marionette theatre and if your children love theatre, book a show well before your planned arrival. There are marionettes for sale in shops all over the city, but this shop had a lot of really interesting hand-made marionettes.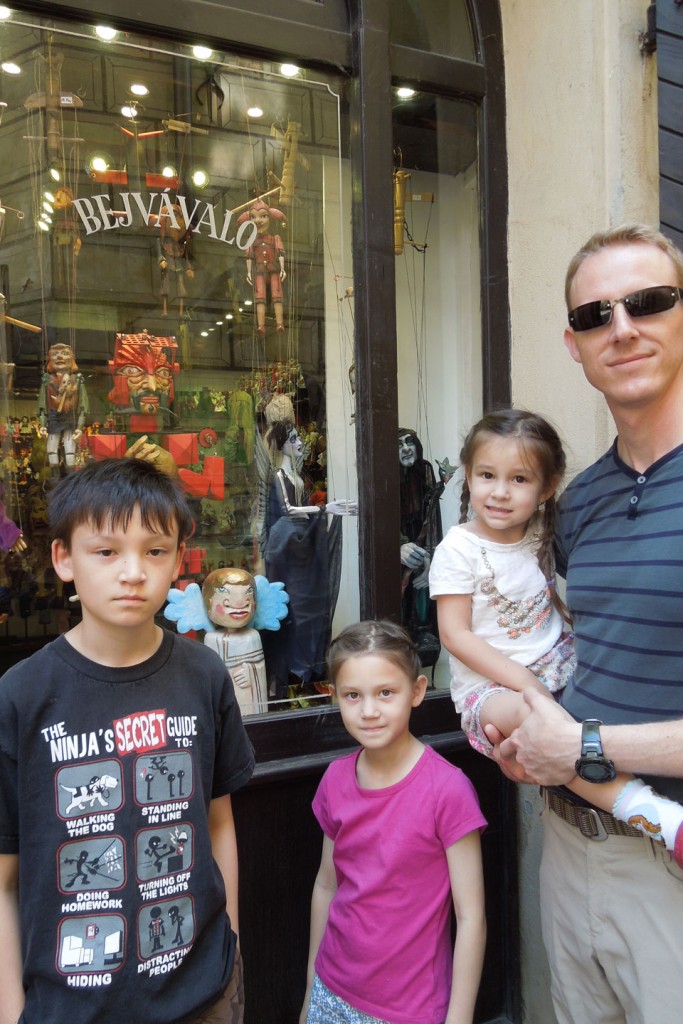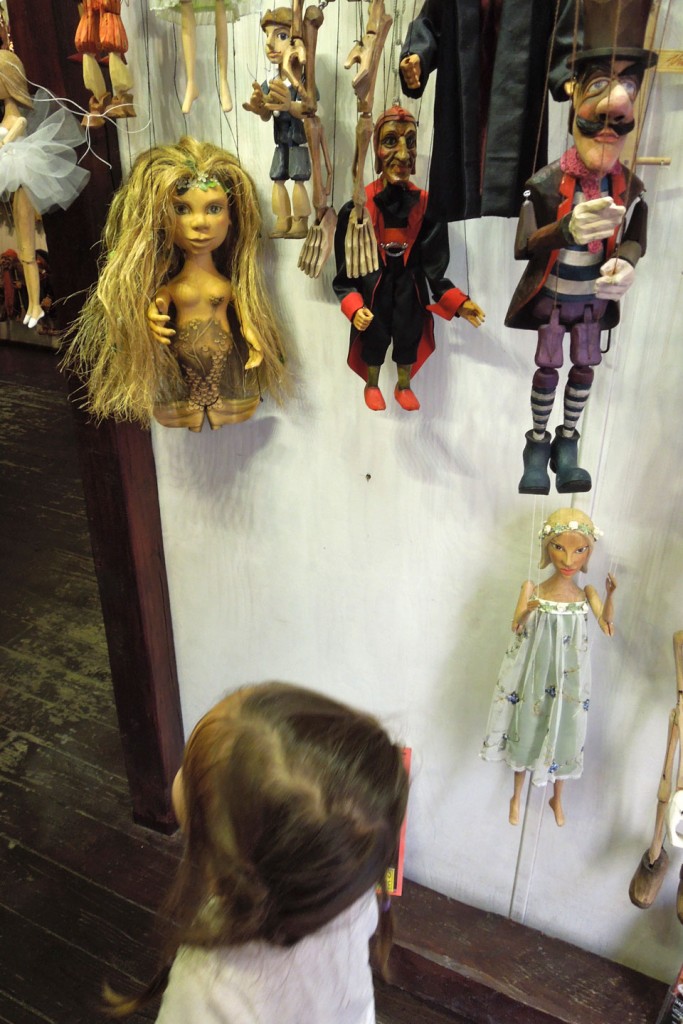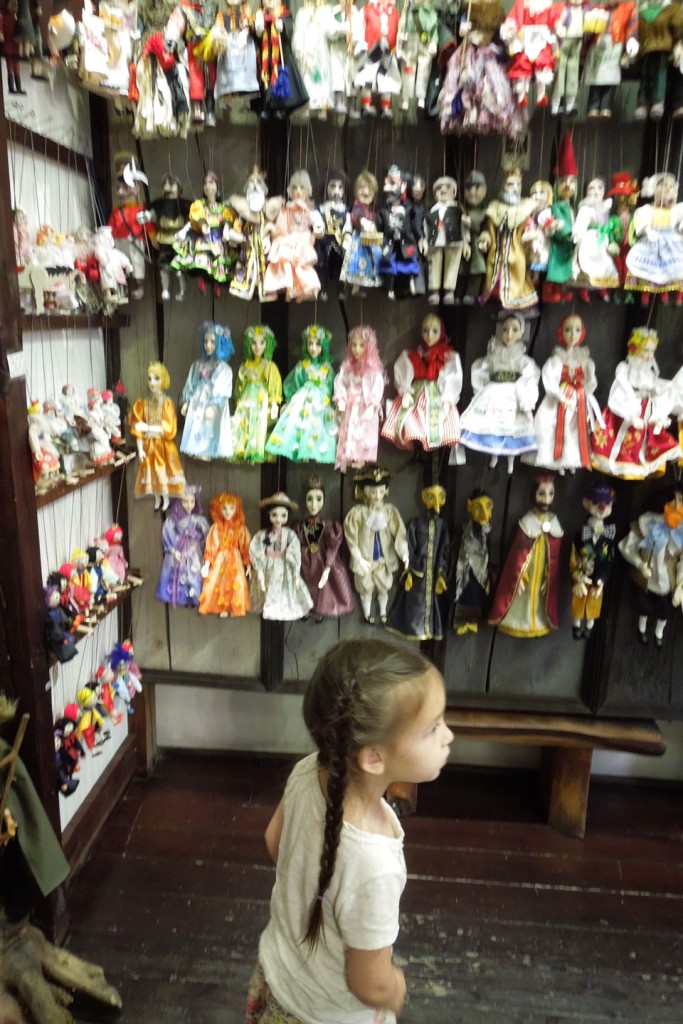 I would have loved to have purchase a marionette to take home, but our past experience with marionettes hasn't been great (tangled lines). So, we chose not to buy one because I knew that it wouldn't last with my kids, but they would be a really lovely souvenir.
Prague Astronomical Clock
In 2015, we saw almost all of the brands of the major global retailers on signs in the bustling city streets. Many of the restaurants had signs and menus posted in multiple languages from English, French, German, Chinese, Korean. There were so many segway tour companies whizzing around the Old Town Square selling their tours to all the tourists. The old photos of my first visit would reveal the Old Town Square to be a dim, gray place. My photos are filled with dark statues and drizzling rain. There were many Czech soldiers on the square at the time, and I have several photos with a few of them. I wish I could post some here but they are in a box in storage in NC!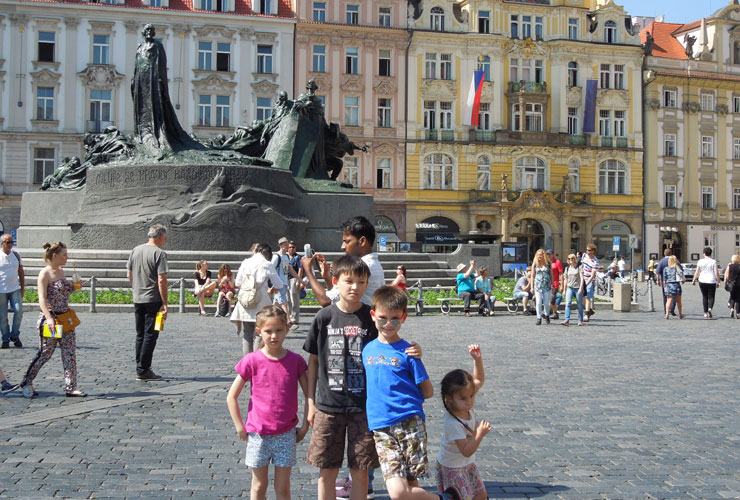 The Old Town Square that J and my kids saw was bright and sunny. There were gelato vendors every few corners and everyone seemed to be eating an ice cream cone. There were tourist gathered around the base of the Astronomical Clock from every place in the world, with their digital cameras, phones, selfie sticks, and fanny packs (some things never change). The kids LOVED watching the glockenspiel in Munich and were hoping that the Prague Astronomical Clock would be just as exciting! The Prague Astronomical Clock was installed in 1410 and is the world's oldest still operating. We had aimed to be there before 12noon to watch the clock and then go have a bit of lunch in the square before exploring around a bit.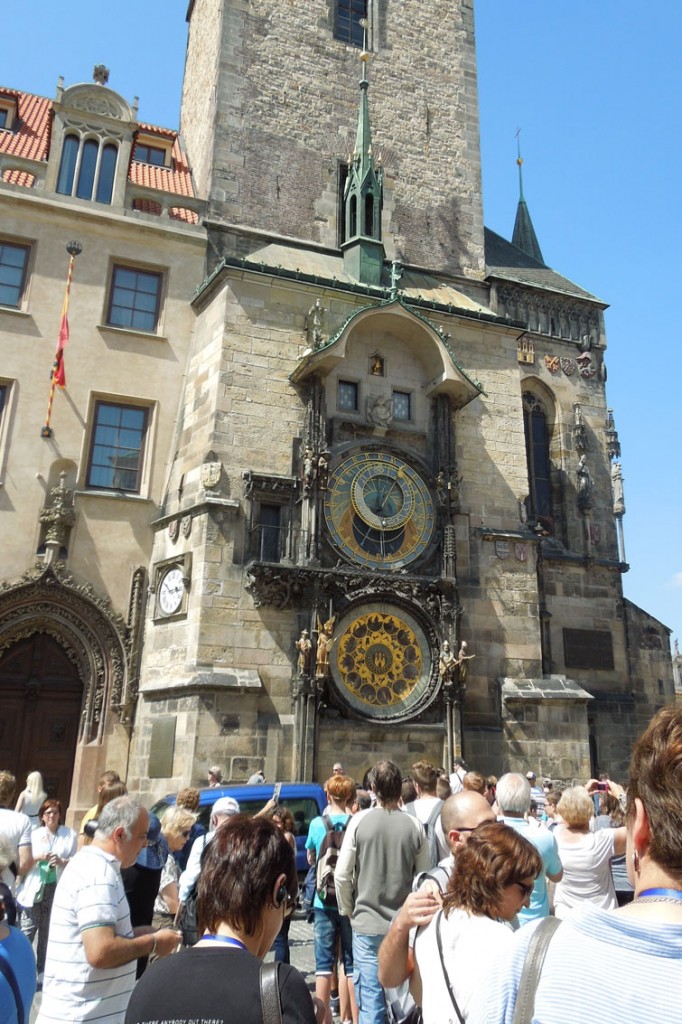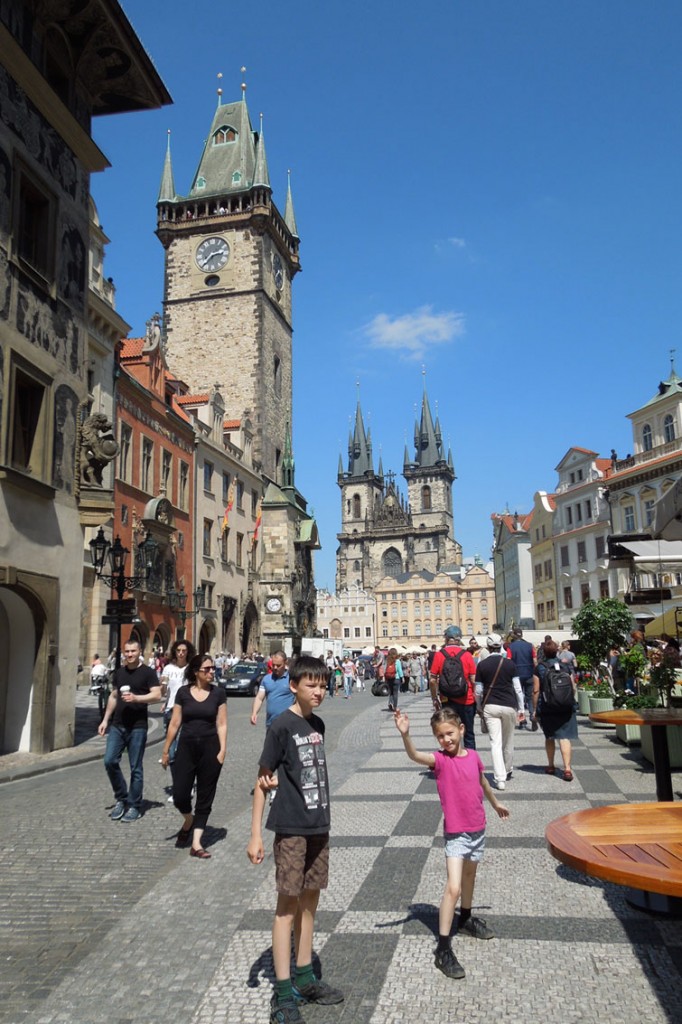 It was magnificently bright and sunny which we were used to tolerating. Living in Seattle and Dublin keeps our sun expectations pretty low. After about a 25 minute wait, we were able to see the Astronomical Clock work it's magic! It was interesting to watch, but after seeing the glockenspiel, the kids were a bit disappointed that the astronomical clock display was very short in comparison. Still, they thought it was very interesting and wanted to go on the Astronomical Clock tour as they were very interested in learning how the clock operates.
To find where to purchase tour tickets, you have to go into a door to the left of the astronomical clock. I went in to investigate and found out that all of the tickets for the tours that day had already been sold out. There was some sort of reception. So, some of the tours had been cancelled. So, I purchased tickets for a tour the next morning that would include a tour of the clock, the Old Town Hall, and the underground area.
Since we were in the square, we decided to go ahead and have our lunch there. We picked one of the restaurants right on the square so we could people watch. The restaurant had several menus posted on a plaque and all the children confirmed that there was something there they could eat. The waiter informed us that there was a price premium for sitting in the umbrella outdoor area (as opposed to their indoor seating). We settled in for some people watching, and the Puppy, J, and I ordered some more traditional Czech foods to try while some of the kids ordered chicken goujons and french fries. Hey – you've got to be practical!
Prague Old Town
After lunch, we walked around and explored the Old Town Square. There were a lot of tourists and a lot of souvenir shops. None of us were too keen to look at souvenirs. So, we just wandered around and looked at the interesting buildings before heading home for dinner. Of course, we stopped for our compulsory gelatos. Holiday requirement.
Lego Museum – Museum of Bricks Prague
On our way to the Astronomical Clock, we passed by a Lego museum called the Museum of Bricks Prague. Our kids love lego and were intrigued. So, we on the way home, we stopped in to have a closer look. The kids were enraptured by the displays and enjoyed going around to each of them. It's so amusing how the toy museums and lego museums really get their attention. The best part for me and J was being able to show the kids some of the lego sets that we (or my brothers had) as children.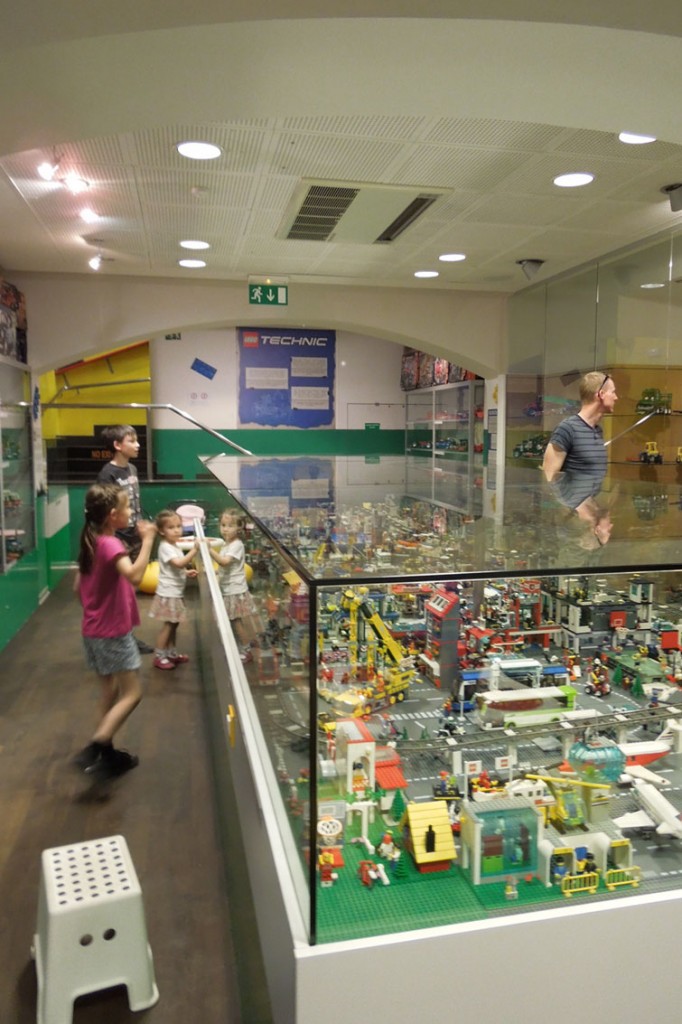 There are several levels and lots and lots of Lego. There was an amazing recreation of the Charles Bridge and National Museum. After a long visit, the kids were very satisfied with this visit even though they decided not to purchase anything to bring back to Dublin in the end. We require each child to carry their own backpack and they are amazingly pragmatic about souvenir purchases now!