When I was flipping through facebook one night, I came across an article in the Irish Times about a house captioned "The Cork house that time forgot". An intriguing title, right? Straightaway, the series of haunting photos of abandoned mansions by Niki Feijen came to mind. I find the idea that something so beautiful and grand could be abandoned for generations. When my mother would talk about the home and possessions that they left in Vietnam when they escaped in 1975, she often talks about how relatives came in the days and weeks before to take away furniture and that my father gave so many things away to his relatives. When I visited Pleiku with my mom in 1997, we visited the home she shared with my father, older brother, and live-in nanny. An old neighbor recognized my mom and they spent an hour chatting and he told my mom how people had moved in quickly after my parents had left. So, the idea that a house could sit vacant and untouched for better part of a century was deeply intriguing to me. I had to see this place! The Irish Times mentioned that it was the ONLY time that the house had been and would be open to the public.
I told J immediately that I was going. He didn't share my enthusiasm and instead just commented that he'd feel more comfortable if someone drove down to Cork with me. This is a 2.5 hour drive people. But for some reason, since Cork is on the other side of the island, people are generally horrified that I would attempt such a drive in a single day. I put out a query on Facebook, but although I received several interested comments as in "Ah. Sounds so interesting. Busy, I'm afraid.", I'm fairly sure everyone was thinking "She is definitely MAD. Who would drive to Cork and back all in one day!!?"
I resigned myself to making the trip alone and even looked forward to 5 hours of listening to whatever I wanted on the radio and eating a nice lunch out while in Cork. At the last minute though, my good friend, Áine, finally consented to go with me against her better judgement. Her mom, who had grown up in Cork, knew exactly which house we would go see and recalled always wondering what was beyond that large stone gate on the edge of the Cork city centre. Luckily, her mom also agreed to mind her kids for her so she could have the day to drive with me on my mad quest and we set off early (slightly after 8ish).
It was a bright sunny day, splashed intermittently with a few dark lashing rain moments in the middle of Ireland, but we arrived in Cork at the Clayton Silver Springs Hotel shortly after 10:30am. We could see that the car park was already full and the attendant was turning people away and sent us farther down the road to a second car park. Confusingly, we passed the gates of the Lotabeg house on the way and the attendant there waved us onward. We arrived at a car park for a church with several more attendants and plenty of space in the car park.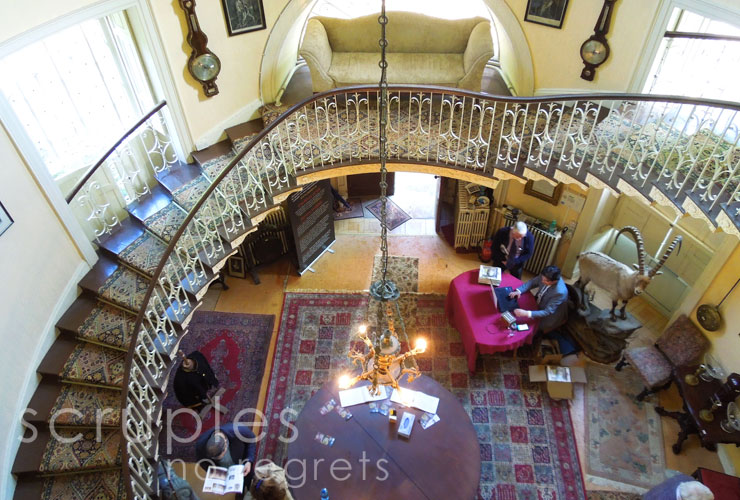 The main entry and cantilevered stairs. | Lotabeg House, Cork, Ireland
After queuing for a bit, a smallish bus pulled up and we all loaded up and headed over to the house. We entered the large stone gateway, Callaghan's Gate, and made our way up a steep two-track dirt road through heavy overgrown shrubs and trees not unlike my in-laws mile long driveway on their mountain in North Carolina. The auction house had an efficient system for disembarking and reloading people to back to the car parks. Entering the front door of the house, we were in the immediate grand entry and queued to purchase a catalog for €20 which admitted two adults. After that, we were free to explore the house and it's contents at will which was, frankly, AMAZING! I have visited many castles and stately homes open to the public and you can NEVER wander wherever you want. You are limited to certain rooms and certainly are usually behind a rope barrier. Here, we could go wherever we wanted and TOUCH anything we wanted to as well because it was ALL for sale.
We went through the main reception room which was marked by these amazing cantilevered stairs and open all the way up to the second floor. The rooms were still set up with all the pictures, paintings, furnishings, and taxidermy as it was 100 years or more ago. It was FREAKING AMAZING. It was amazing to imagine that a family lived here amongst these things and the entire house was still as if they had walked out the front door in 1939 and never returned.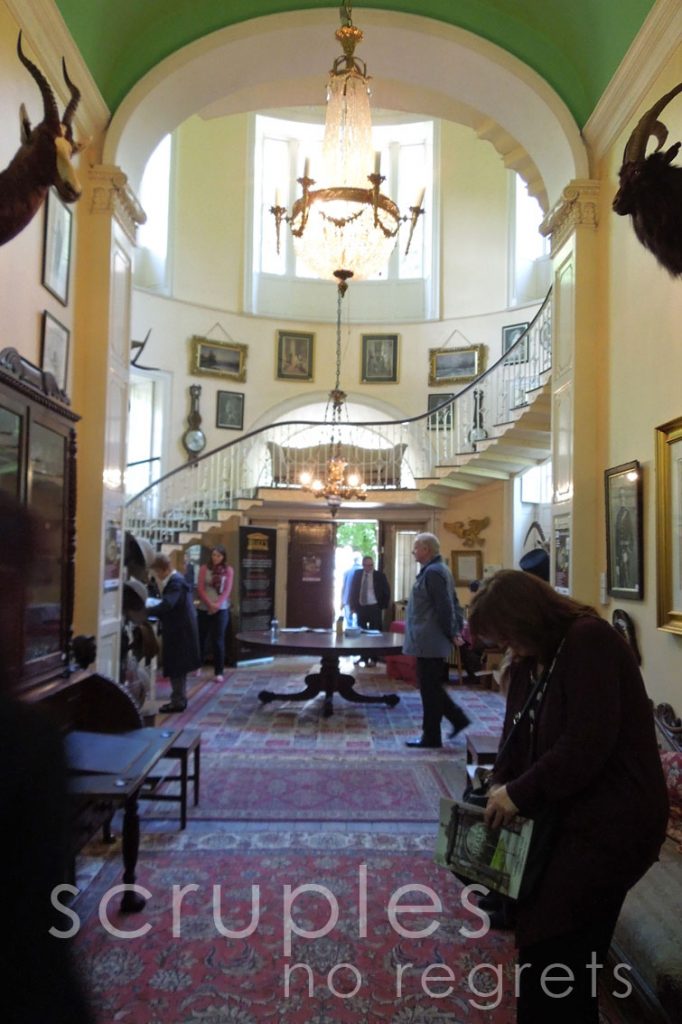 Pith hats hanging on the hat stands bring to mind images of British and Irish engineers working in the sweltering sun in the 1930s. Top hats on the other side of the doorway conjured up images of nights out to the theatre or other fancy occasions. It was amazing to be up close and you could touch anything. Pick it up. Examine it. For me, pretend I might actually buy it. One man wandered around with blue latex gloves on and I wondered if I might be in a twilight zone episode of the Antiques Roadshow.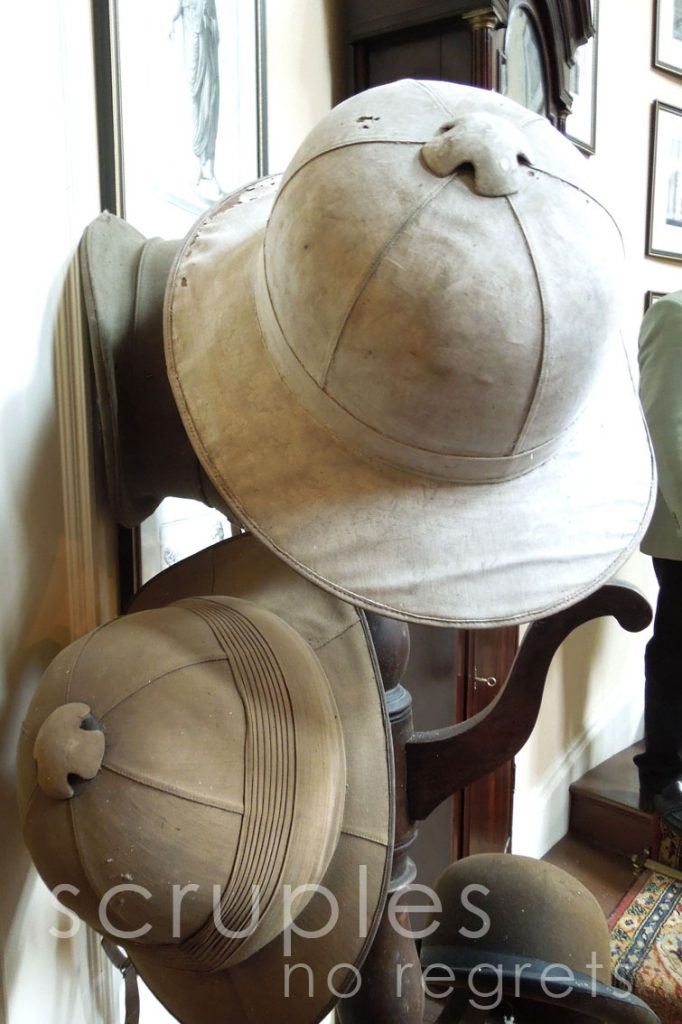 As we made our way down the main hall and to the right, we passed several large taxidermy specimens – moose, deer, goat. Every wall was covered in art and paintings. Every surface featured delicate objects brought back from travels to foreign places, souvenirs from a time gone by. Another right took us past the kitchen, which had been blocked off, and down a set of stairs in a darkened stairwell to the basement.
Basement
Down in the basement, old suitcases and steam trunks were stacked high and a man was pulling each one down and opening them to examine the condition of the interiors. It was definitely not Downton Abbey, but it was so interesting to see what was kept down there.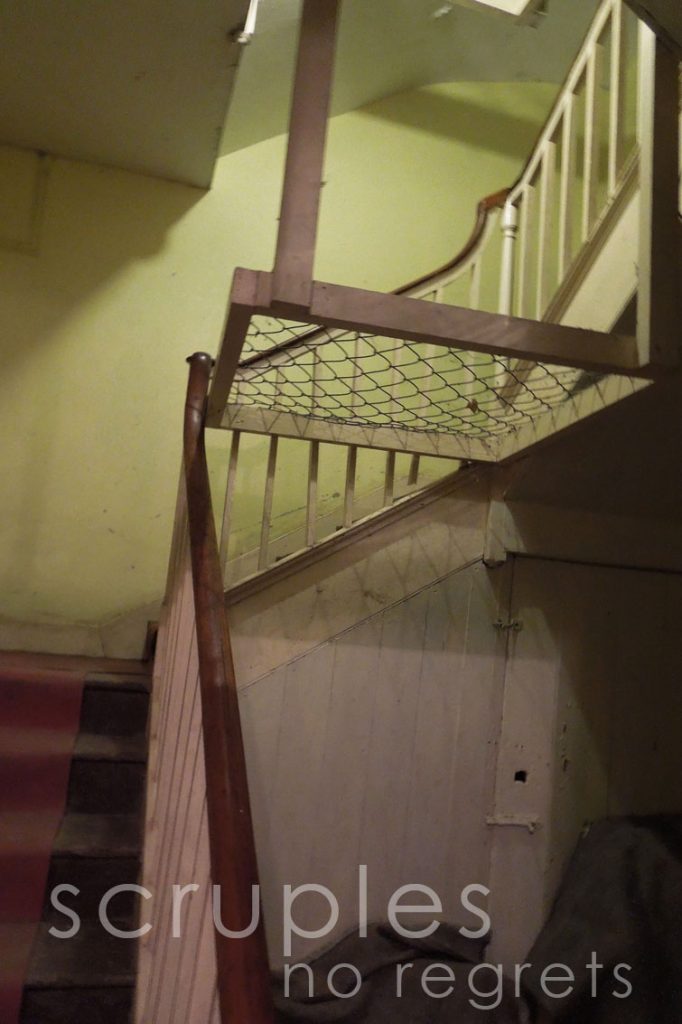 Another sharp right led us into a large room with high ceilings, stacked with old bookcases and frame photos and art. Bright light from a large window illuminated the room and a large metal table contraption that we guessed might be a vintage chicken incubator or feeding table. An older woman had pulled out frames from the corner and was going through them one by one. This black and white photo caught my eye because it was so old looking. I wondered who was pictured there, but the catalogue didn't give any details and many of the contents of this room were lumped together.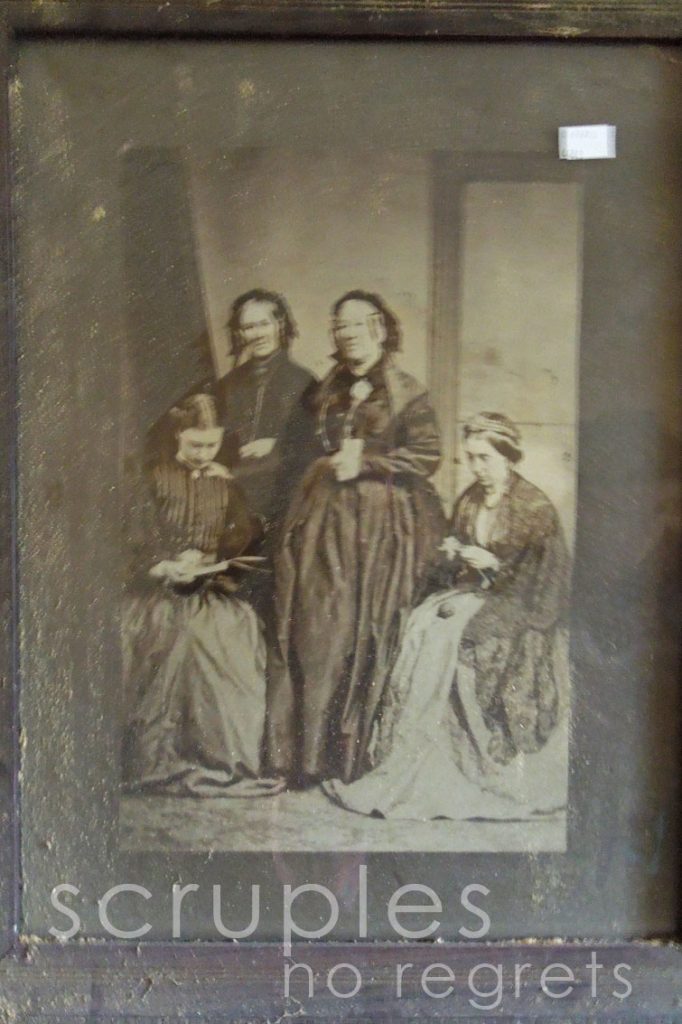 Áine and I moved on to the next room which was filled with old toys, baby buggies, and antique bicycles. On a table in the center, there was a display of butterflies in a large round glass case. Various rusted pedal cars sat on the shelves and stacks of newer (1980s, 1990s) board games stood in the corner.
In the last room, we found a display of vintage wines. Some of the wines had a reserve price of €1500-€2000 for a single bottle. We finished our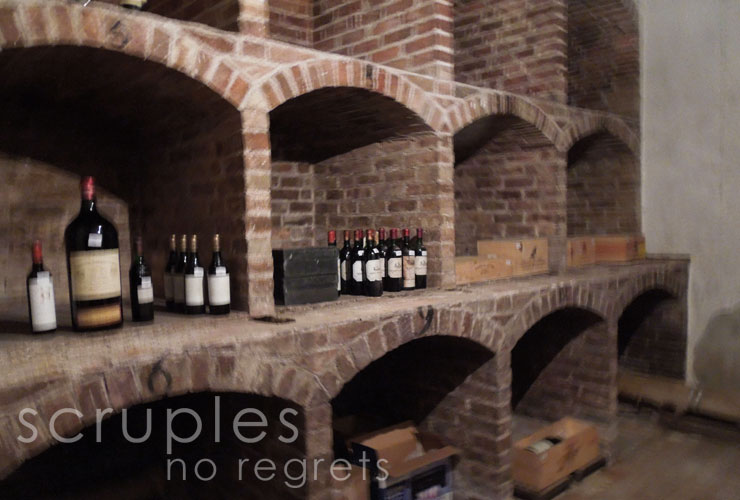 Second Floor
Instead of going back to the main floor, we decided to follow one of the auction workers who ascended the flight of stairs up to the second level. Up there, we came upon the bathroom – one for the ladies and one for the gents. I only got a shot of the ladies. So, not sure what it looked like over in the gents. The loos were down a long narrow corridor with several horse racing prints in frames decorating the top half of the walls.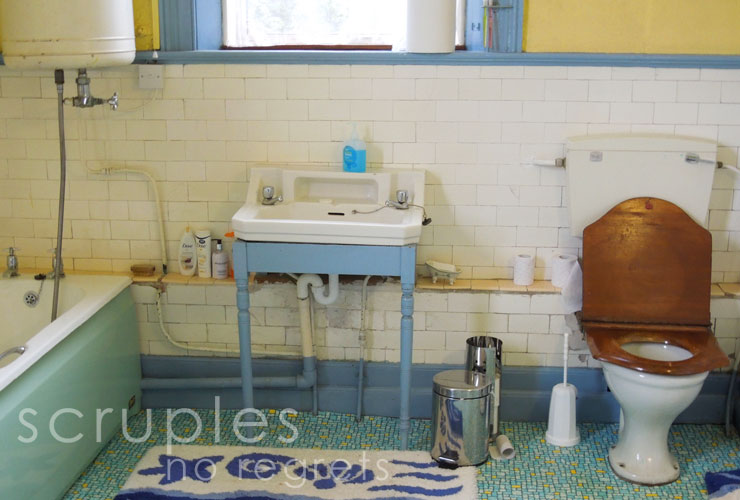 We toured through a series of bedrooms. Some of the smaller bedrooms had the definite air of being lived in by someone as we saw laundry hampers and toothbrushes sitting next to the in-room sinks. Each room had a fireplace and large wardrobes. There were doors connecting some of the rooms that were blocked off and linens in some of the cupboards. Creepy dolls still sat on the beds of what was obviously an enormous children's bedroom. The magazine art in the cheap frames above the children's beds made me feel better about the calendar art that I've been sticking into frames since college! If the genteel middle-class family in the big house in Cork can do it in the 1930s, so can I!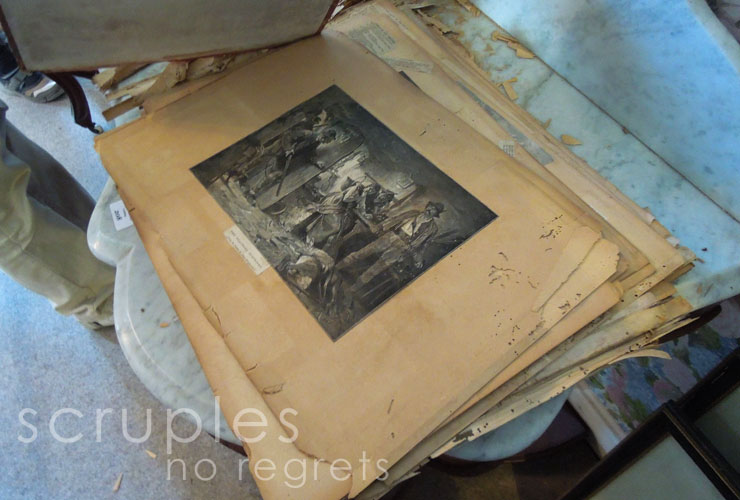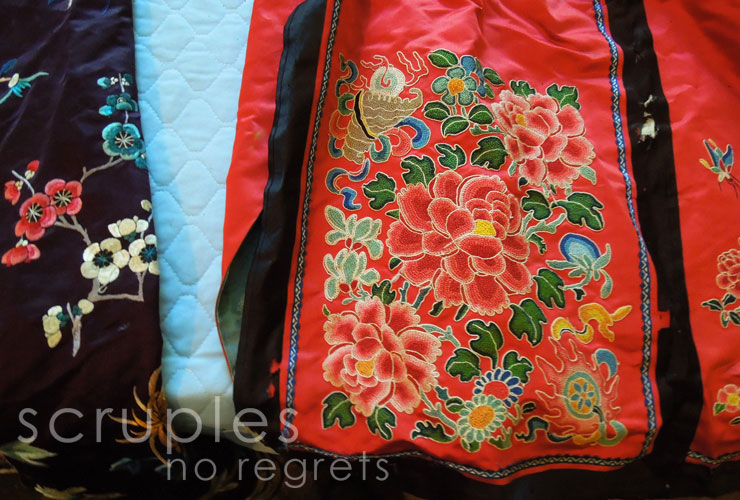 I have to admit that I opened a lot of wardrobe doors and dresser drawers. The wardrobes were massive and they all had deep pull out drawers. When else will I be able to explore to my heart's content? In a small room with a fireplace which seems like a small sitting room, there was a writing desk. When we walked into the room, a man was just opening the top to see if it would fold down and it was amazing to see that the desk was still FULL of photos and papers! Next to the modern cello tape and ball point pens, were the most amazing photos stacked up of the deceased owner's older brother, Capt John C Hart of the Royal Army Medical Corps, who must have died before his brother, Vincent Hart, died in 1939. Was this his desk? Were these papers? Obviously, someone had been using the desk as well – someone who never removed this papers and just shuffled in their own party invitations and first communion cards with photos from dead relatives from over 100 years ago. We all wondered if you bought the desk at auction, if you would get all the contents as well.
As we left the bedrooms upstairs, we came to the top of the open staircase where we admired the two-story high ceiling of the main reception room as we waited for a turn on the cantilevered staircase. They were only allowing six people at a time on the staircase, and several people were taking their time to examine the artwork on the wall as well as try out the beautiful white sofa halfway down.
Main Floor – Sitting Room
On the main floor, we explored all the rooms we had bypassed when we had suddenly decided to explore the basement. The first was the sitting room which was a vast pink room filled with cushy sofas and porcelain and then even MORE porcelain. If I was a person with copious amounts of porcelain, that would be a great room to house it all.
Main Floor – Dining Room
We ducked across the hall into the dining room which had deep red walls and was crowded as people hovered frenetically around the cases they had set up on the far wall with large amounts of silver. It was until I read the catalogue later that I realized everyone was very interested in the rare Cork silver that would be auctioned off a few days later. While everyone else hovered around the silver cases, we checked out some of the buffets and pieces on the other side of the room. Several people hovered around a back room filled with glassware and vases.
On our way out, I snapped this picture of a uniform on a stand near the front door. I felt sad that this place would be sold off piece by piece into different collections and that no one would be able to see any of these items together again. The house looks amazing in these photos, but in reality, everything had an air of shabbiness and neglect. Water damage and splotches of black mold climbed up the walls of that magnificent reception room. Much of the furniture was worn and the bedspreads were worn and used. It was obvious that this was a house that had been lived in and the things in it were used – it was not a museum.
After reading some of the descriptions in the catalogue, I realized that many of the pieces were actually here before the Hart family purchased the home in the late 1800s from the previous family. I find it interesting that people would buy a property and then just move in and fit your own belongings around another families belongings. Thinking about that toothbrush by the sink in the upstairs bedroom and the clothing hamper in the corner, I imagined that the current owner(s) who were descendents of the Hart family, possibly the descendants of cousins or distant relatives of the Harts who inherited this place, found themselves unable to sustain the high cost of maintaining such a place. I imagined them moving in and placing their own belongings around these momentos and furnishings of people long dead. What were these people thinking as they collected these objects and shipped them home from places so impossibly far away in the early 1900s? That there would never be children, grandchildren, to whom to pass all these wonderful things.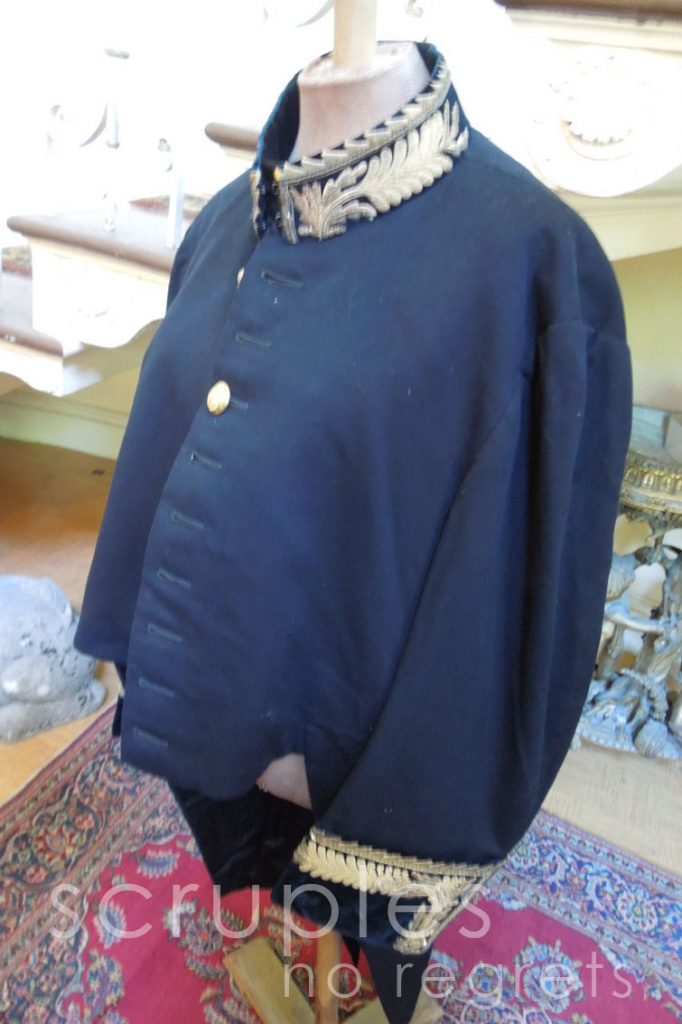 After we finished viewing the house, we waited outside in the sunshine for our bus back to the car park, marveling at all the things inside. I was so glad to be able to see the house – not a staged representation of a well-to-do middle class family in the turn of the century Ireland, but the real deal. Their real dishes, linens, art on the walls – preserved for only a few days longer. It was truly amazing!
As we rode the bus back to the car park, we passed the hotel and the enormous queues at the car park told us that we did very well coming early and missing the large crowds. We headed into the city centre in search of lunch and landed at the very nice Market Lane restaurant on Oliver Plunkett Street based on the recommendation from a friend. It was open and spacious and relatively empty when we landed shortly after 1pm. By the time our food arrived, the whole place was full and buzzing from the early afternoon brunch/lunch crowd and we patted ourselves on the back for the timing everything perfectly. We enjoyed a couple of delicious braised pork belly sandwiches and finished off with a cuppa and a chocolate pot (which was divine and the server said it was just really good butter and good chocolate whipped up together). Definitely trying that at home. Satisfied, we headed home and arrived in Dublin before 6pm. So, for those in doubt, you can definitely have a fine day in Cork in a single day! And get home in plenty of time to organize the school uniforms and lunches for the next day!