Our first and second weekends in Dublin, I took the advice of Expat with Kids in Dublin and made plans for our family to explore Marlay Park, located in Rathfarnham, Dublin 16. We had scheduled viewings to look at a houses in the area and decided to trek to Marlay Park as part of exploring the area and determining whether or not it was reasonable for us to manage without a car.
On the first weekend, we looked a house on the southwest side of Marlay Park and tried walking up to entrance and the closest shopping center with a grocery store. It was a long walk uphill that left Miss Piggy crying and whining the whole way. It was definitely not a easy location for walking on a daily basis to shopping and easy access to local transportation.
I had forgotten that there was a weekend market in the park. So, we ate at the convenience store at the shopping center first and then headed to the park to look around. We were so sad to discover that there was a gorgeous little market with delicious food and fresh veggies for sale after eating all that bad Centra food. So, we vowed to return soon to sample the yummy food.
On our first trip to the park, the weather was sunny but turned a bit chilly while we were hanging out on the green. Despite the chill, LuLu Belle quickly made friends with another little girl playing in the park and her mom was friendly and chatted with us.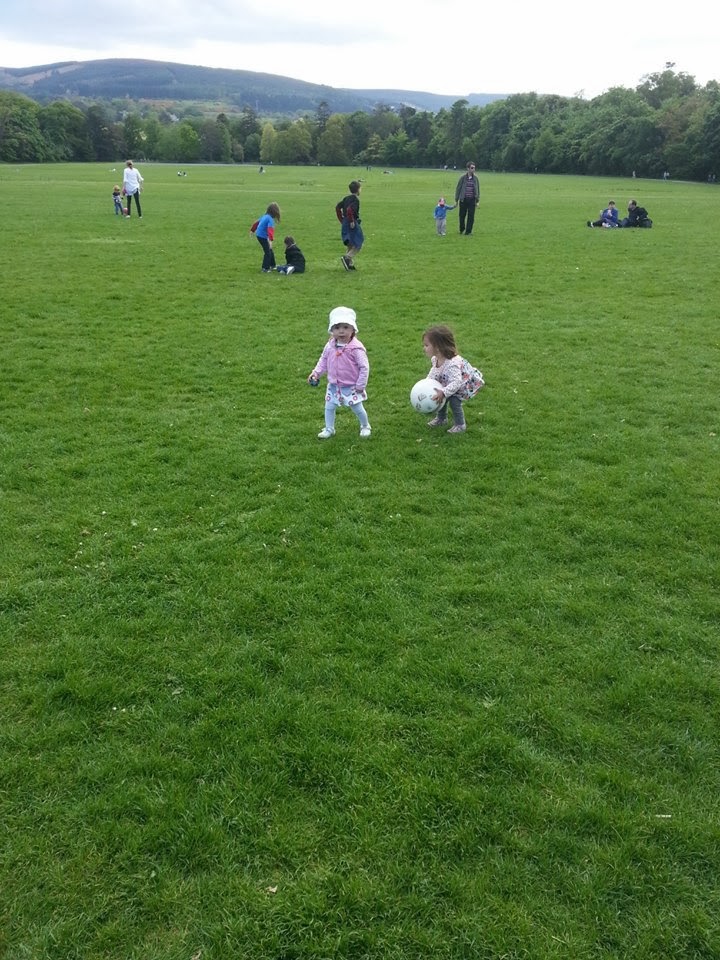 Lulu Belle and her new friend. Or maybe she just chased the other baby around.
During our chat, she recommended that we walk through a bit of a forest grove in the middle of the park because along the trial there was a Fairy Castle. The children loved the idea of this and we quickly went on our way to explore. It was a fun little walk, do-able with a stroller, through a nice little wood and after a while, we found the Fairy Castle. It was very intriguing to the children.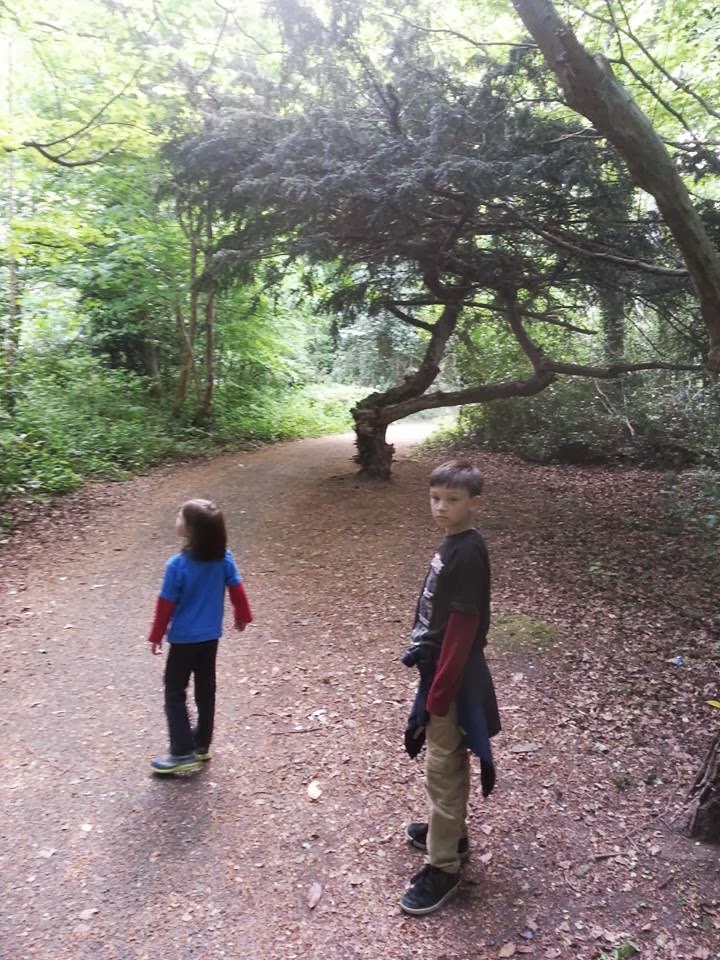 Walking through the woods in Marlay Park in search of the Fairy Castle.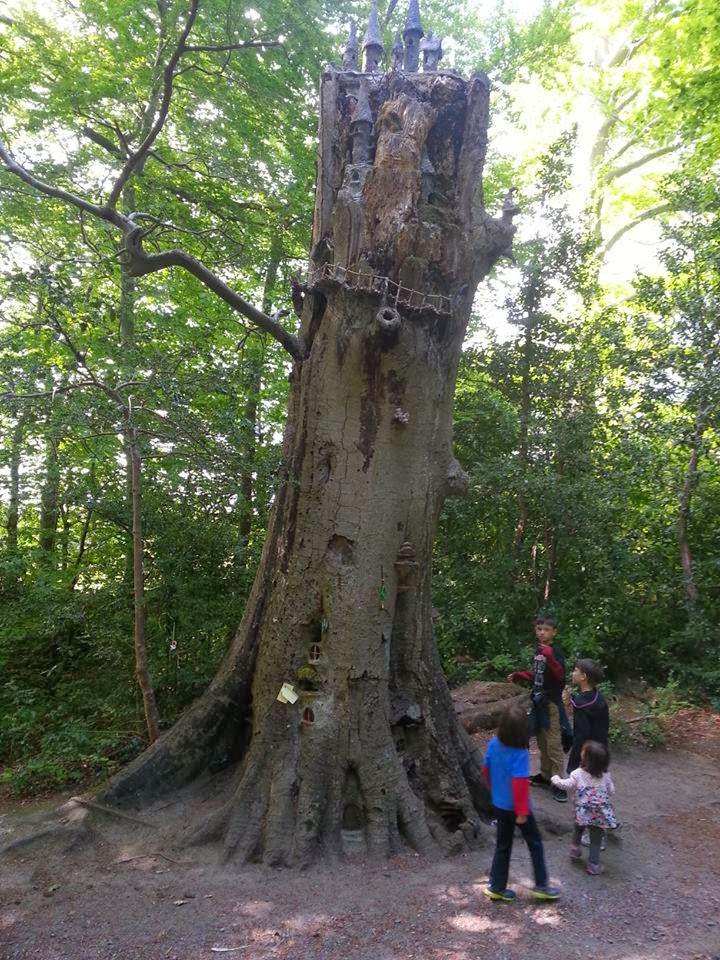 Fairy Castle in Marlay Park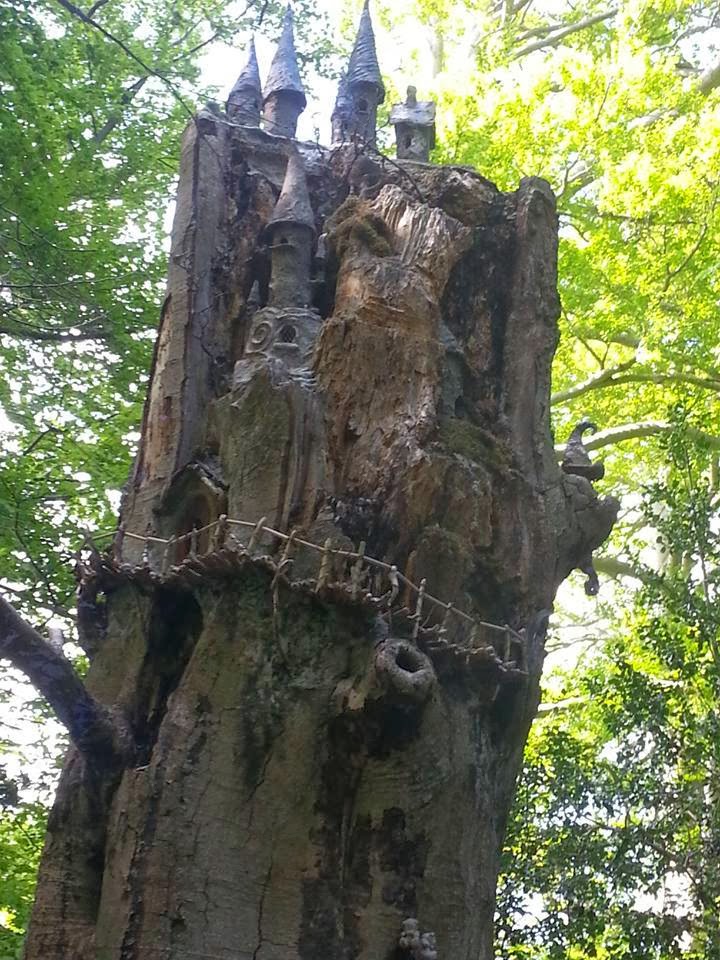 Top of the Fairy Castle
On our second weekend in Dublin, we went to look at another house near Marlay Park. This house was closer to the LUAS. So, instead of taking a bus, we were able to take the Green LUAS down to the Balally Stop and walk from there to the house. After the viewing, we walked about 20 minutes through some nice neighborhoods and stopped at the Marlay Park market for lunch. The children decided on Sausages on a roll and it was a huge hit.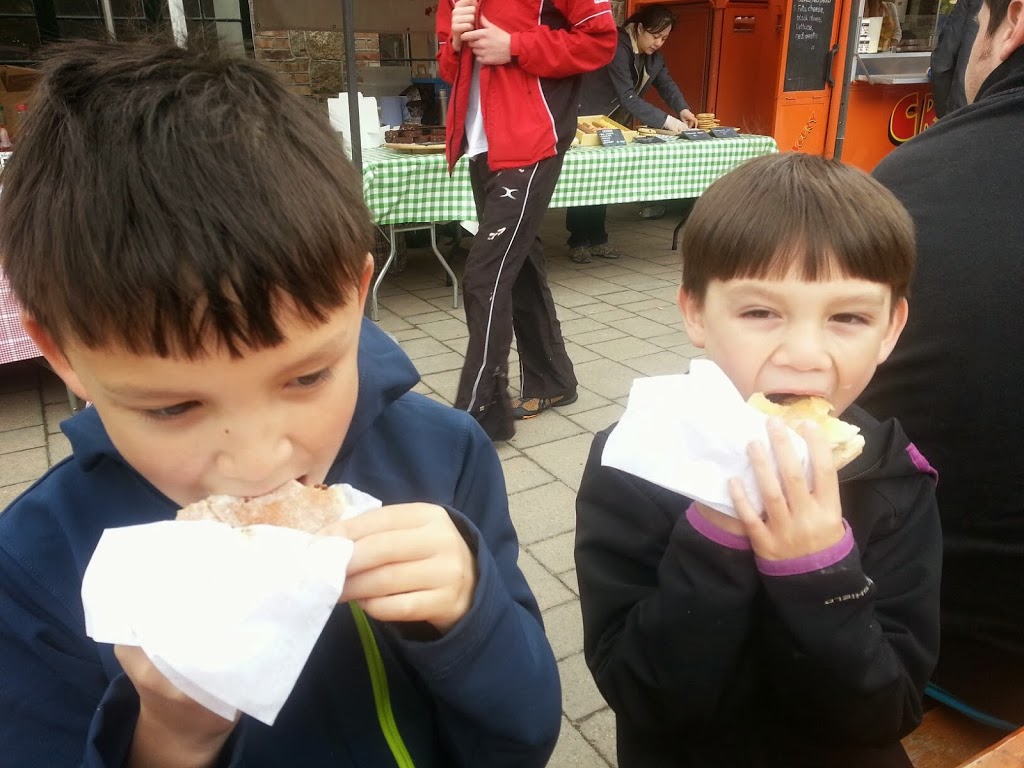 Seconds on the yummy sausage rolls.
The boys each had two and Miss Piggy chose a giant cookie the size of her head for a treat. We tried some of the non-dairy soy ice cream. The kids said it definitely didn't taste like ice cream. But I thought it was nice!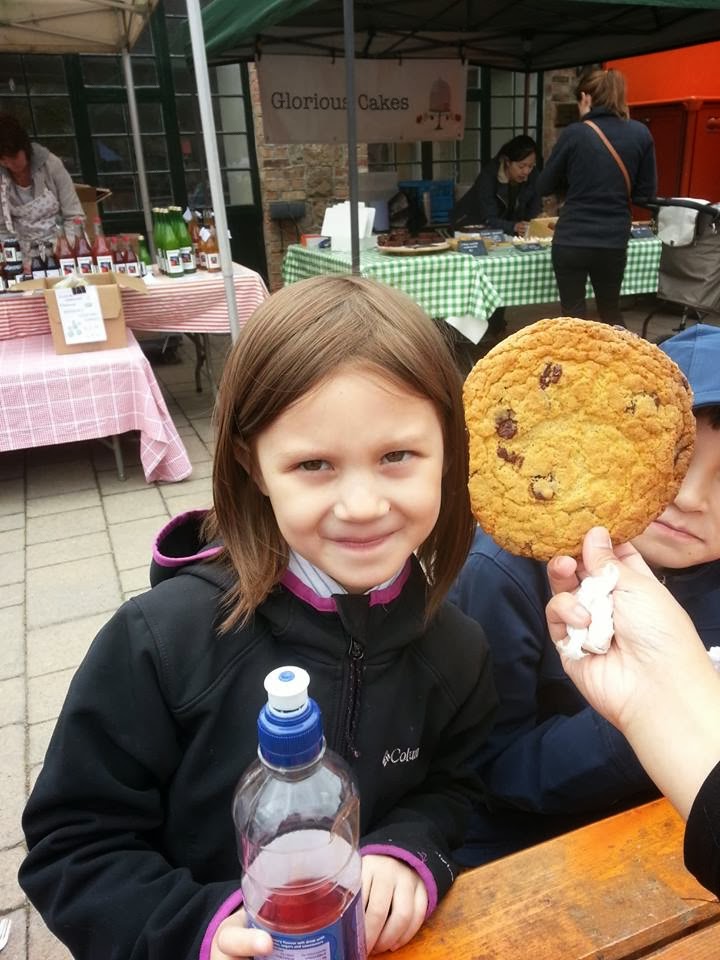 Wow. Cookies as big as your head.
After lunch, we went out to the green so the kids could run around a play. While we were there, we noticed someone riding a Dutch bike around the paths that curve around the green. I love the Dutch bikes! We never bought one because they are super expensive and because we never had a garage in Seattle. Storing a giant bike without a garage is a huge pain. I found the booth with the bikes and was able to take the bike out for a spin. The owner, Astrid Fitzpatrick, owns DutchBikeShop.ie and is very happy to lend out the bike for anyone to take a spin and it creates free advertising for her! The bike was great and I was able to ride it around with all four kids inside. It was much easier to ride than my vintage pedicab since it had gears. The kids loved it! I would have purchased one, but the house we are renting doesn't have a garage or garden access.
For comparison, here's us a few years ago on my vintage pedicab! So sad that we had to sell it when we made our move!