When J's mom and stepdad were visiting a few weeks ago, we decided that we would treat my MIL to a nice early Mother's Day dinner on their last evening in Dublin before they set off for Belfast and the Giant's Causeway the next morning. I couldn't get anyone to form an opinion on what they'd like to eat. So, no booking was made which made me a little worried. But it was Wednesday night – so, not a mad weekend evening at least. They were staying in the Central Hotel and we wanted to stay in the area. We considered the Rustic Stone restaurant across the street, but ended up at Brasserie Sixty6 down St George's Street a little ways.
I had heard that Brasserie Sixty6 was nice but hadn't been there myself. We popped in with no booking and they were able to seat us immediately. The cocktails were nice and we ordered our starters and main without too much of a fuss even though my father-in-law was hoping for rack of Lamb in Ireland. He settled for some surf and turf and each of us ordered steaks plus interesting starters. J ordered some seared tuna which looked delish and the MIL and I both ordered this interesting Crab Salad with avocado mousse and ruby grapefruit.
When our starters arrived, our crab salad looked very interesting presented in a martini glass, but I was a little worried that it was all pureed and green looking. Upon tasting, it was cool and creamy and tart from the grapefruit. Not particularly crab like. I thought, hmmm. This is nice, but not sure I can eat a whole martini glass of it. As I made my way down the glass, I was happily surprised to discover the crab salad below the green stuff on top. Thank god!! It wasn't all going to be this smooth green stuff! It tasted much better after that.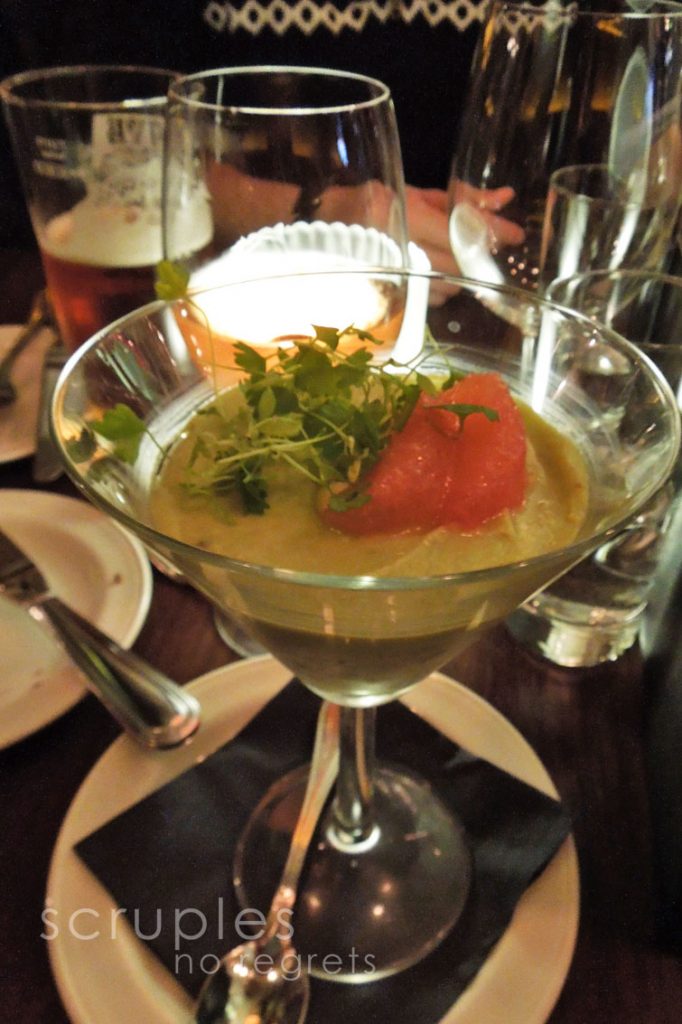 Then our mains arrived. I had ordered the Irish Hereford 9oz Rib Eye Steak served with bearnaise sauce, crisp watercress salad, thick cut chips and pesto rolled greens. The thick cut chips were really THICK cut, but crisp on the outside and mealy on the inside – very Ramona Quimby if you know what I mean. Everything was delightful and I did not leave one bite behind, my obvious dieting downfall.