Finding a house to rent in Dublin was more challenging than I expected simply because we had specific demands – a specific area, family-friendly amenities nearby, good schools, close to public transport, large enough for our large family, and within a specific budget. Not too much to ask for, right?
Where to Start Looking
Almost all rental listings are listed online on Daft.ie, a comprehensive website that lists properties for sale as well as for let (for rent). There are some other websites, but everyone (from other bloggers to estate agents) that this was THE site to go to find the latest listings. Other bloggers like Gabrielle Blair at Design Mom had success using www.sabbaticalhomes.com to find a house in France.
We started looking while we were still in Seattle and were able to get a good idea of the relative size and amenities that were available. Obviously, the more you had to spend, the more you could get. There were some beautiful, historic properties with gardens, Georgian townhouses, and even castles for rent!
The most challenging part of looking for housing before you move is that it's very difficult to tell where the neighborhoods are by just looking at the names. The website search tools allow you to look by postal code (e.g. Dublin 8) or by neighborhood. However, it was impossible for us to tell what amenities were available in each neighborhood and the expat and Daft forums were generally not helpful.
The greatest determining factor was which side of Dublin do you work on (North or South) and how much do you have to spend. Because Mr Puffles' put him on the South side, we concentrated our efforts although we wistfully looked seaside communities on the North side like Clontarf and Raheny.
Beginner's Guide to Dublin Neighborhoods
Obviously, I only have very limited experience with the neighborhoods in Dublin. We found that the best neighborhood for your family depended on you budget, your transportation needs, and how much space you need. If you have a car, you have a lot more flexibility.
Most of the neighborhoods in Dublin have access to some green space. Just from walking around and taking the public transportation, we noticed a lot of parks and squares that offered an outdoor space for families. Most of the expat blogs that I visited were generally singletons or couples without children. So, if you are looking to be close to the action and only require a small apartment, you have a lot more options.
Some of the neighborhoods that were recommended to us were close to the city center and had bustling village centers that offered walkability and nice amenities like good restaurants and decent shopping options. However, the closer to the city, the smaller the homes became that were in a reasonable budget. In some areas, it was completely impossible to find a flat or apartment that offered more than two bedrooms unless you were willing to rent an entire Georgian building for €5000+ per month.
So, we had to look further. If you are without a car or need to rely on public transportation, the most reliable public transportation is either the LUAS (Dublin's light rail system) or their commuter trains (the Dart and commuter lines). The RED Luas line runs east and west on the North side of Dublin and the GREEN Luas line runs north and south from the city center. Unfortunately, the two do not connect (although they are working on that). The Luas is very efficient and housing close to the Luas stops are accordingly more expensive. South end neighborhoods include Ranelagh, Rathmines, Sandyford, Dundrum, and Rathfarnham.
The Dart and commuter train lines run North and South along the coastal areas of Dublin. At this point, I have only tried the Dart along the north side of Dublin. Based on the listings on daft, the neighborhoods close to Dart stations and nice coastal communities are also expensive. Some of those communities include Clontarf and Raheny on the North side. On the Southern coast, Dun Loaghaire and Blackrock.
If you are willing to use the Dublin bus system, they service a much greater area than the rail lines. But they are also less frequent. If you choose to live in an area serviced by a single bus line, you could be waiting for an hour between buses and service can be spotty on the weekends.
Based on the chatter on daft forums and expat forums, North side folks seem to think the South side is overpriced and yuppy and full of fee-paying schools and South side folks seem to think that the North side is scary and full of drug dealers. I have heard good stories from people happy on both sides. So, basically, you just need to come around and walk around the particular neighborhood and home you want to rent and decide for yourself. If you don't have kids, it is even more easy because walkability for an adult is much different than if you are considering schlepping 1.8km from your home to the Tesco with young kids and bags of groceries or
trying to maneuver a double stroller
 in a grocery store or onto the Luas. It's all relative.

Our House Wish List
Things we definitely needed:
3 bedrooms
more than one toilet and at least one bathtub
walkable (with four young kids) to public transportation
walkable (with four young kids) to shopping, especially groceries
good schools
safe
Things we wanted but didn't need:
2 showers/bathrooms
a grassy rear garden completely fenced
4 bedrooms
a dryer
gas central heating
a cul-de-sac
hardwood floors or a wood laminate
After viewing many houses, we realized that we really wanted to be on the Luas line. Mr Puffles went to a couple of our first viewings with me on the bus and it took a lot of extra time to plan the timings and give us enough time to walk from the stops to our destination. We always seemed to be late because the children just didn't walk very fast.
The first house I viewed sans Mr Puffles. I took the Luas with the children by myself and it was dreamy! The tram comes frequently (about every 5 minutes) and I could easily put the baby buggy onto the tram without trying to fold it up on a crowded bus. It also runs frequently on the weekends and evenings which just made life easier for us if we wanted to go visit other areas of Dublin and Ireland on the weekends.
We also found that the rental market is red hot right now. We looked at several homes on the lower end of our budget that were not on the Luas line that we liked because the neighborhoods seemed very family friendly. The first house was in an area that we were looking in while in Seattle. We quickly realized that it was much too far from good bus service and shopping to work for us without a car.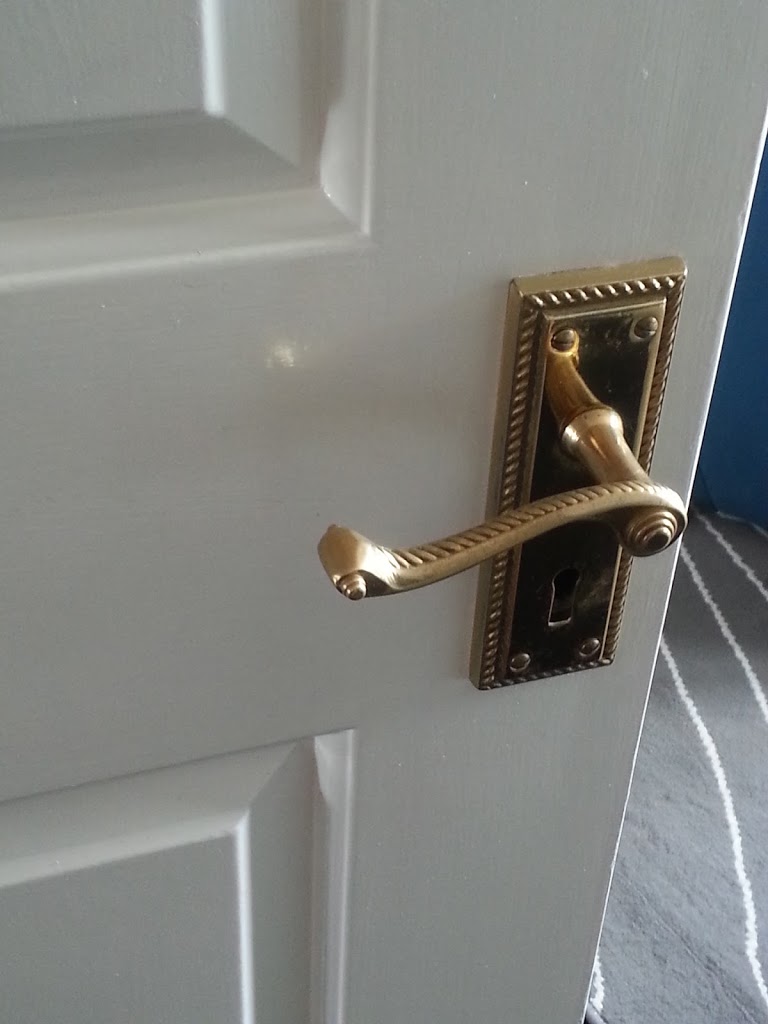 All of our doors have these great handles. Not so good for baby proofing, but very charming!
We then went on to view several other houses in better locations. We put bids in and got none of the houses! As we had a short timetable to find a rental, we were really sweating it! The estate agents and landlords all seemed to hold 15 minute viewings at open houses. So, there were a lot of people looking at the houses in general. We tried to talk to local people in the neighborhood and actually got some good information on which other neighborhoods might be more suitable for walking and targeted our efforts in those areas.
We viewed the house that we ended up renting twice. I viewed it first with just myself and the children and then Mr Puffles met us there a week later to view again after some work had been done on the house. The house had previously been rented to three (hard-partying according to the neighbors) college co-eds. But the landlord was now looking for a nice family who would take better care of the property. Enter us! The house still needed a lot of deep cleaning but it seemed to have almost everything we were looking for! We put our bid in and after a couple days were given the good news that the house was ours!
Our house has:
3 bedrooms (2 doubles with 1 single with room enough for a toddler bed instead of a dresser
3 bathrooms (2 full bathrooms one of which is ensuite with a powder room downstairs)
a small rear garden and a small front garden (what we would call a yard though so small that you really would just call it a tiny patch of lawn)
very close to the Luas
very close to a grocery store and shopping center
a cute village with a couple pubs, several local banks (including ours), several cute thrift stores, local pharmacies and other eateries including Indian and Thai food
a large enough kitchen for an eat-in area large enough for all 6 of us
access to a larger green for the children to play
a dead-end cul-de-sac with limited traffic
several other children in the same age
several retired couples (trust me when I say that this is the best because they are home and keep an eye on things and keep the most beautiful gardens – US or Irish, it's the same!)
friendly neighbors!
close to many good schools
gas-fired central heating
a dryer (welcome to hang dry, crunchy clothes)
wood floors (it has lots of worn carpet – so, we've invested in rugs and do a lot of vacuuming)
a fourth bedroom (we'll have to rearrange the kids when guests come to visit)
a grassy rear garden (our rear garden has been paved in – low maintenance but not very toddler friendly)
cheap rent – we definitely paid on the high end of our estimated budget amount. But we figured that the money we would save from having to take the bus to get shopping done and the convenience of being in such a great location would be worth the €250 difference of some of the other homes we viewed.
So far, we have been in our house for three weeks and it is working out great. The children have adjusted quickly and made friends in the neighborhood. We've found the shops and amenities close by are really great considering that I have to go shopping for groceries every 2-3 days. Four young children means that we are always buying bread and milk and fruit! In Seattle, I used Smith Brothers for milk delivery and Spud.com for organic groceries. Without that service here, I am constantly running out of milk and am walking to the grocery store with four kids every few days.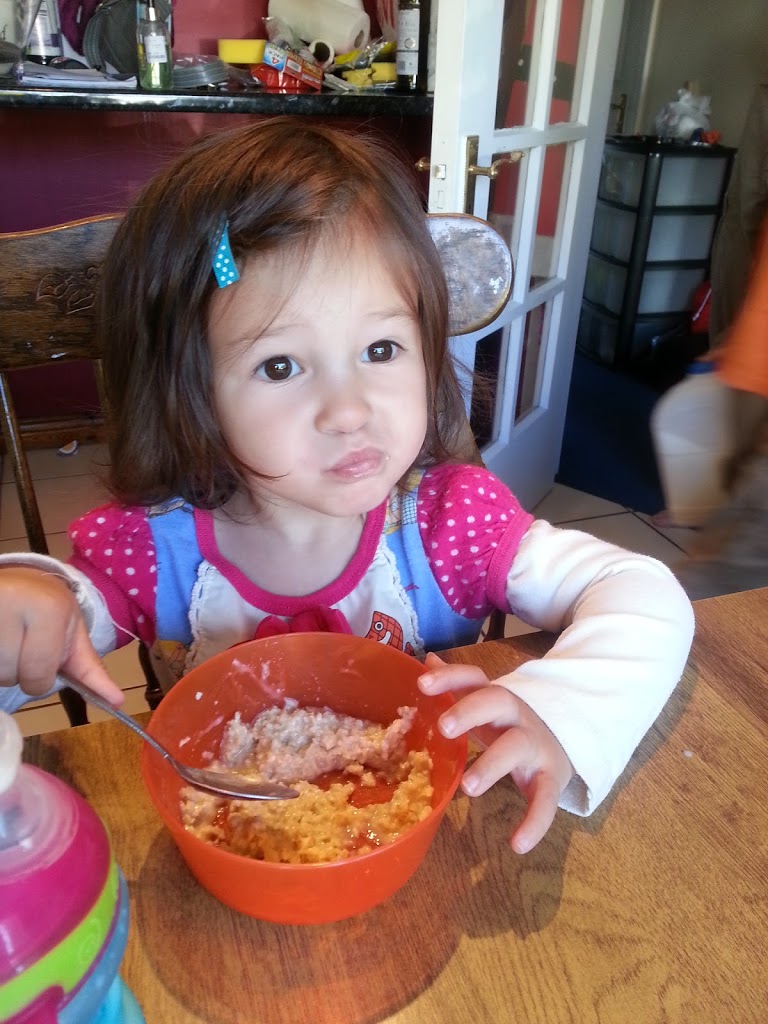 LuLu Belle enjoying some oatmeal at the breakfast table.
Mr Puffles is also finding the commute on the Luas to be easy and convenient. With the tram coming every few minutes, he can come and go easily without worrying about missing his bus. Even in Seattle, he often  took a bus between our house and Bellevue. Whenever he had to work a bit (or a lot) late, he would be stuck for hours waiting for a bus. This is much easier and has cut his Seattle commute from 1.5 hours to about 30 minutes from door to door. We are very happy so far!