Last week, Ireland celebrated St Patrick's Day, originally a feast and religious holiday marked by going to church services. However, due to Irish diaspora, the holiday has taken on quite a bit of a party and binge drinking day in areas outside of Ireland. As the day approached, several Irish remarked to me that they wouldn't go into town for the parades as there were usually too many young people binge drinking and acting out of control and that St Patrick's day is supposed to be a religious holiday. I got the distinct impression that they felt that a lot of this "party" on St Patrick's Day mentality was a result of the American influence.
I don't really disagree now that I've been through the St Patrick's Day celebration here in Dublin. St Patrick's Day was really an unremarkable one for me growing up in the midwest. The community in which I grew up was distinctly Dutch American and highly conservative. Our little town was the last remaining dry town in Michigan and it was impossible to buy alcohol within the city limits when I was growing up. My only exposure to St Patrick's Day was when kids and teachers at school would warn for everyone to wear green on the day otherwise you would get a pinch, which always seemed ridiculous to me especially since I never had any green clothing and often had to resort to reveal a measly, thin band of green on my socks or underwear to avoid the pincers of classmates.
For our first St Patrick's Day in Ireland, a neighbor dropped off face paint for the kids and various kitschy "Irish" things for them to wear to the parade that included a flashing bright green sequined tie, a similar flashing bow tie, and green and white hair ribbons. The kids were excited and they had the day off from school and the day following. So, we were able to enjoy a long weekend and apparently a day of recovery post-parade.
The parade was scheduled to start at 12noon and we woke up to an overcast, chilly morning. We painted faces and the children donned all the flashing green gear and hair ribbons. We thought we'd go into town around 10am-1030am hoping to be early and get a good spot for the kids to see the parade. We took the LUAS, which was already packed at 10am, up into the city centre. We headed down Dame Street and found a spot for the kids to perch on the tops of these posts as all the window ledges were already full and it was already 3-4 people deep along the sides of the road.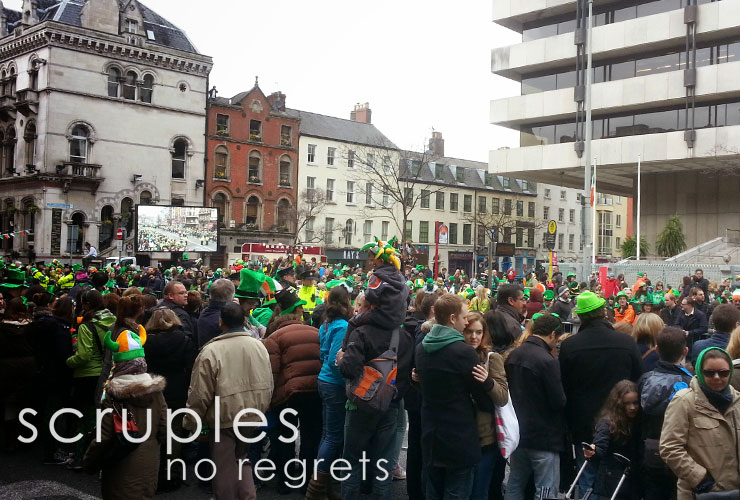 The kids were champs as we waited for over an hour for the parade to start. In the hour or so before the parade started, the space between us and the people closer to the road as well as the space behind us to the edge of the buildings filled up tight with throngs of people. No one around us spoke in Irish accents but almost everyone immediately around us spoke with American accents! When I had been in town the Saturday before running errands, I had noticed that everyone in Temple Bar and the surrounding streets was definitely from North America, and probably from the US, based on their accents.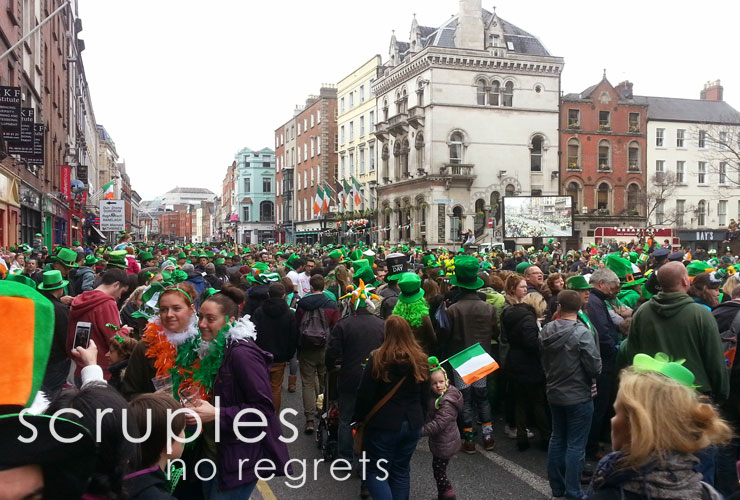 Unfortunately, it took another HOUR for the parade to actually reach us on the parade route. The children teetered on the posts, able to see, but exhausted from standing for so long and begged to be let down. With the crowd probably 10-12 people deep now, it was impossible for me to see anything in the parade except for the tallest displays that rose over the heads of the other parade watchers. The parade, for all our waiting, was also surprisingly short and didn't offer the musical entertainment of band after band as you would see in the US (I realized then that big marching bands are mostly an American thing). There were a few bands, but they often seemed to be taking a "break" whenever they reached us. So, we didn't get to hear too much music.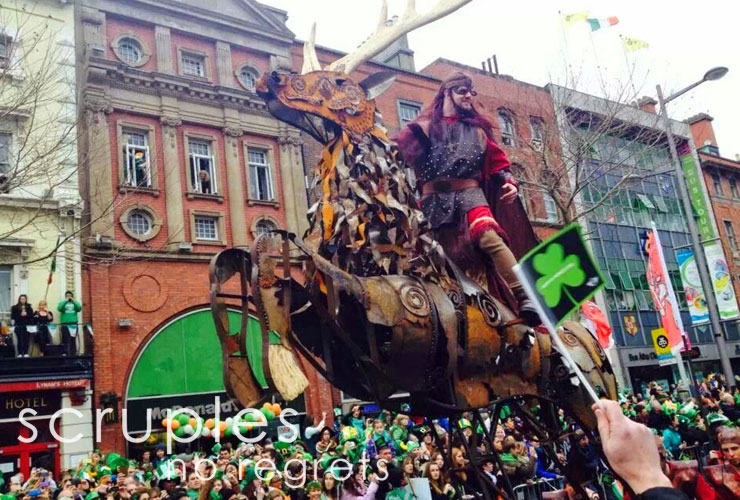 When it seemed like the parade was starting to dwindle and we were exhausted from holding up small children on tiny posts, we decided to call it quits. We had originally thought we'd get a bit to eat in town. But after 2.5 hours of battling drunk tourists as they plunged and lunged their way through the crowd, falling over and onto random spectators, we decided to head back home and have lunch in our own village. I'm glad we went to see what it was like, but I'm not sure I'd go again. I am not a fan of large crowds or parades and this just wasn't very fun with four small kids! Maybe if we had gotten a better perch, it might have been better. But I'm not sure I'm willing to go even earlier and wait around for 2-3 hours. A couple of friends had advised to go the very starting point or the end points of the parade (coming late if you are going to the end point) as you'll get a chance to see the parade participants better. Maybe we'll wait a few years and try that when the kids are older!