Spent a lovely morning a couple of weeks ago at the Tramyard in Dalkey. An expat group I belong to organizes a coffee meetup a couple of times a month, and a nearby friend and I decided to pop over to this one at the Tramyard Cafe in Dalkey. Neither of us had been before and I had never actually even been to Dalkey before. Dalkey is a south end Dublin suburb that boasts multi-million dollar water front properties and a few famous residents including Bono from U2. I doubt that I would ever run into Bono, but Dalkey does have that reputation of being a quiet suburb that the monied Dubliners prefer.
Since I can't afford ocean-front property, I decided I COULD afford a cup of coffee and maybe some interesting breakfast. The Tramyard turned out to be a cute little cafe (although it's not that little by Irish standards). It was in face spacious enough to seat about 20 ladies at a long table! It was bright and had a lot of little cute touches like the floral tea cups and saucers.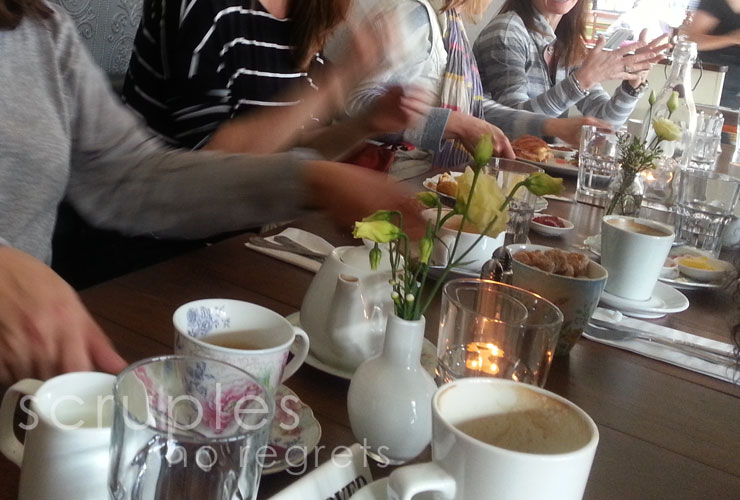 I ended up ordering their full irish because none of the other breakfast appealed me (they were more of the sweet variety and I was craving something savoury). It was good. Probably not the best fry up that I've tried in Dublin, but certainly filling and adequate. The scrambled eggs were a bit thin (too much milk?), but the company was marvelous. Met quite a few ladies I'm already friendly with and met some ladies new to the group and Ireland too!