When we first arrived here in the summer of 2013, we frequently went to Merrion Square for the children to play. The playground was a bit old fashioned but the park was small and shady and had plenty to do for all the kids. It was easily the Monkey's favourite playground in the area. The second summer, we stopped by for a morning with coffee and treats and were surprised to find the park had been completely razed and under construction. The Monkey cried a bit, devastated that his favourite park was gone.
This year, we had packed up all the kids to take them to our annual pilgrimage to the GNIB (Garda National Immigration Bureau) to do our renewal. Normally, children do not need to be present, but we had tried to renew a couple weeks earlier while the kids were on Easter holidays and their nana was in town to mind them. However, due to a lack of communication on a new policy, we were unable to complete our renewal then and had to return to the GNIB with an extra piece of paper.
This time, the kids had to come with and miss school since we didn't have anyone who would be able to take them all to school in the morning. Luckily, the gentleman who had helped us the first time took our renewal again and we were finished in record time! Out of the GNIB shortly after 9am (We had waited in line outside from about 7:30 am) with our renewed cards.
Mr Puffles had to return to work, but the day was turning into a beautiful one. So, I asked the kids if they wanted to just stay in town and make a morning of it. Perhaps visit a museum or two and maybe the park? Surprisingly, my surly pre-teen Monkey said, "Actually, mom. I was just thinking I'd like to go to a museum." Well, with that kind of response, I wasn't going to turn the chance to visit a national museum. The kids all agreed on the National Museum of Archaeology because they love to see the bog people.
So, we trouped over to the museum, but it wasn't open yet! It didn't open until 10am and it was only shortly after 9. We decided we would go visit the newly refurbished Merrion Square children's playground with some donuts or pastries from the corner shop while we waited for the museum to open. We were so surprised at the transformation! It was a completely new place and the children quickly scattered all over.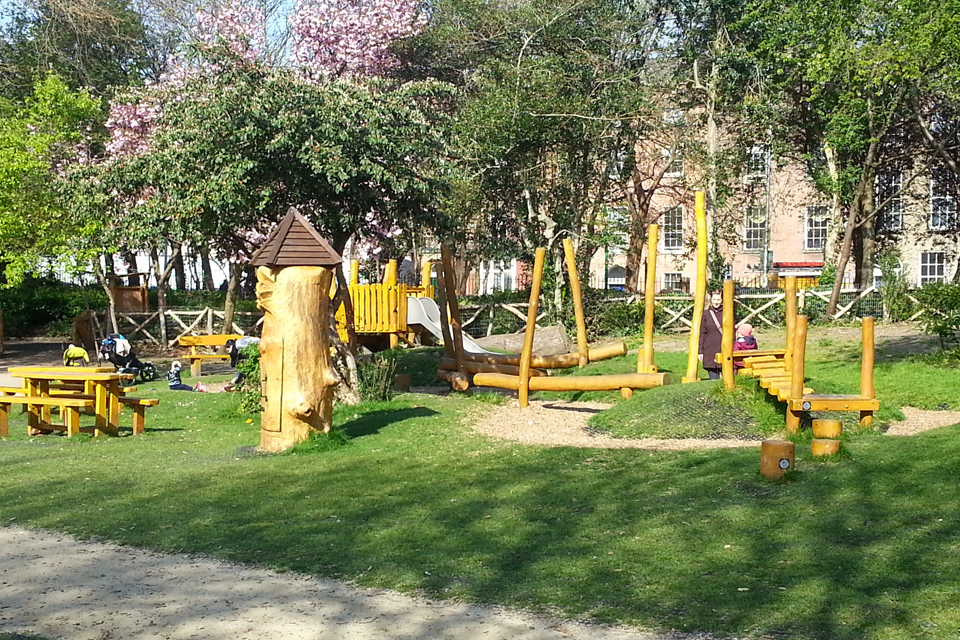 Luckily, Lulu Belle is a bit older and at three, she is able to climb and get down off most things. Her brothers and sister are all older now as well and are a great help. Minding her and helping her along when needed. They had a fabulous time exploring the giant play structure which turned out to be a giant robot and ran back and forth investigating the little bridges, the buried ogre, and the swings.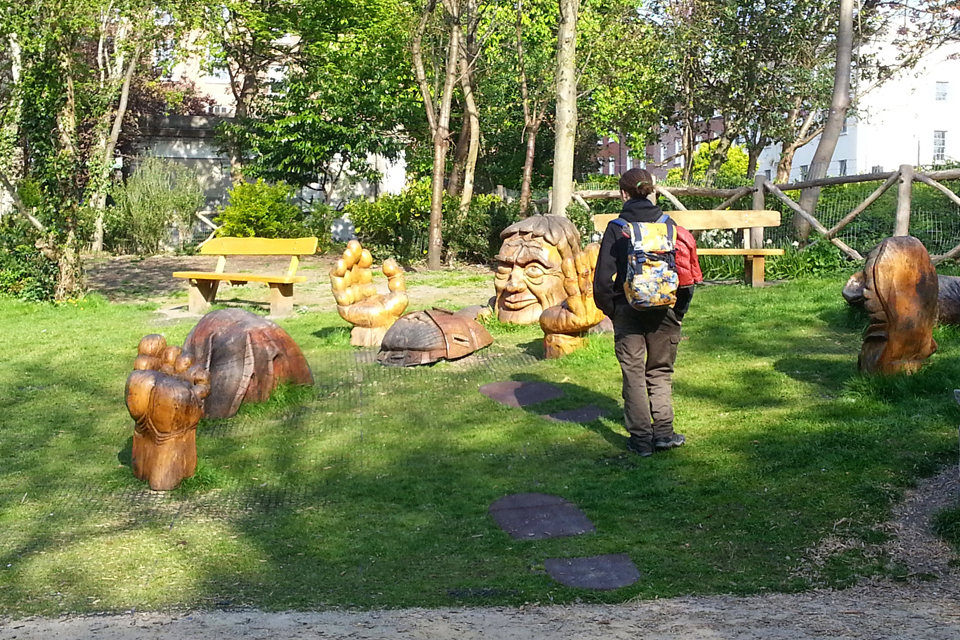 After about an hour or so, we headed over to the National Museum of Archaeology and the children had a fabulous time exploring the exhibits at their own pace. First, we went to see the bog men, as gruesome and tragic as ever. Surprisingly, the children spent a lot of time in other exhibits looking at the jewelry and interesting viking artifacts.
I am so happy that they are starting to enjoy museums and can explore and appreciate each museum we visit.
At the end of it all, we took a look at the gift shop and left without purchasing anything (thank goodness!).