Well, J had a day off a couple of months ago. An extra Friday off that was off the books as a thank you from the management to the whole team for working late a couple of days. Who does that? I don't know in America, but the Irish apparently do and I love it!
So, we decided to use it as we would if any parent would – have brunch without the kids! I had looked up online different places to try and I sort of got stuck on this place called Gerry's. It didn't have a website, but was described as a working man's diner. Since we were missing our Waffle House experience a bit, I thought it'd be fun to try out this local place for some cheap eats…because I love a good deal. You know? That whole bang for your buck thing. I have tried some other brunchy places here in Dublin and it's often expensive for the ever popular Eggs Benedict. Please. Poached eggs. On a english muffin with some wilted spinach. Why does that cost €14? I hate paying for something that I can make at home for so much cheaper.
We dropped off the kids at school and took the LUAS right up into the city centre and went in search of this place. It's on 6 Montague street, a little south west of St Stephen's green, pass the M Kennedy & Sons art supply shop, and down a little alley. We had Lulu with us because she's not in school and always up for some brekkie. Thank goodness she's a good eater.
The place is tiny and I could understand why articles online commented on the long lines out front during brunchy weekend times. But it was early and a weekday. It was still surprisingly busy with workers and other people squeezed into the small tables. We were seated after a few minutes by the door and looked at the big chalk board on the wall to read the menu. It was only €6.50 for a full Irish, but J and I both got a little giddy and went for the €8.50 Full Irish which doubled all the meat or something equally ridiculously decadent. We totally need to eat an entire pig between us, right?
We ordered the little mini fry for Lulu and waited for a short bit while she coloured and played in her corner of the table. The food arrived fairly quickly and included a big basket of toast plus coffee or tea.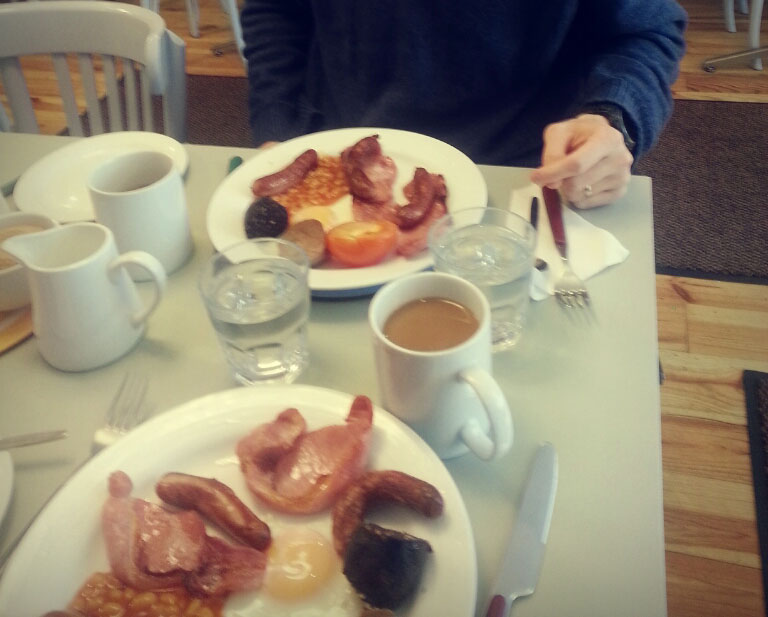 Lulu's tiny fry wasn't too shabby in proportion either and she made a good dent in it – eating up the egg, rashers, tomato, and beans. Gerry's didn't disappoint and it was a diner meal that hit the spot. Service was friendly and quick. J keeps asking to go back!