We've just finished our first six months in Ireland, having arrived in late May. It's been an amazing six months and we are finding ourselves adjusting well still happy to be here! The most important part of the transition has been the kids. They seem to be enjoying life in Ireland, love their school, and are making many new friends.
At the end of October, the kids had a whole week off from school for the Halloween Break. This was a bit unusual for us, because Halloween wasn't a national holiday in the US. In Ireland, the October bank holiday always lands on the last Monday of October and all the schools take a mid-term or Halloween break. I love this and it makes up for not getting a Thanksgiving break the following month.
For our first holiday week in Ireland, we decided to splurge and rent a car so that we could explore a bit of the West for a long weekend. Having never driven in Ireland, I figured, "Hey, it's only 3 hours to the Galway. We can totally drive around to these different areas in three days!" We decided on the iconic Cliffs of Moher and because of their proximity, included exploring the Aillwee Cave and Bunratty Castle and Folk Park. All of these locations came at a suggestion from a friend/neighbor. I found it interesting that when she mentioned these locations, she said, "I've heard these are lovely places to go, but I've never been myself." That seemed so strange since they were all so near compared to sites and cities in the US. But I come from an immigrant family. So, my parents were always dragging us around to see different parts of the United States. Perhaps if you live long enough in the same place, the extraordinary becomes mundane and you no longer go there for holiday breaks.

Anyway. After all this booking and planning, the biggest problem was transportation. We haven't purchased a car yet because we are still living in this fog of living the Euro lifestyle and walking everywhere. While this has been fabulous for my waistline and fitness, it doesn't make it convenient to take four smallish children on holiday outside Dublin. So, I booked a rental 7 seater with Enterprise Car Rental (they have them here too!) plus a Sat Nav unit (because I don't trust J and his sketchy Google maps via his mobile phone in rural Ireland) and was trying to give myself pep talks about driving on the opposite side of the road.
I had planned to collect the car on my own, but when my neighbor heard that I was going alone, he volunteered to come with me…because I'm a woman and can't navigate collecting a rental car on my own? But it was a nice gesture and I figured, why not? Another neighbor offered to drop us off at the rental agency was about a 20 minute drive in Ballymount. So, basically, I owe all my kind neighbors for helping out their new American neighbors. We arrived to a busy rental office. Well, maybe it wasn't really that busy. But it took ages to get through the queue because there was only one person working the desk and it seemed to take forever to fill out the paperwork and go through the process of checking the vehicle before handing over keys. But we were on our way after about 45 minutes!
Now, the most worrisome part of the rental car was not actually the driving on the left side of the road. It was actually because it had a standard transmission. Now, I can drive a manual, but I don't normally, and the last time I had driven a manual was about eight years ago. I just imagined that driving and shifting was going to be all sorts of confusing for me. But I managed to get the car home with the neighbor still alive and I didn't stall the car at all.
We quickly packed up the kids and started off on our drive to Ennis….only discovering that shortly after that kids who were used to riding in a car and now not used to it after six months and are now easily motion sick! The kids seemed to be able to make it most of the way, but as we approached Ennis and moved off the motorway, we had one kid go down quickly and puked in the car. Luckily, it was just mostly bile since his stomach was empty and nothing like those epic puke trips when we naively let the kids drink bunches of chocolate milk at McDonald's on the way.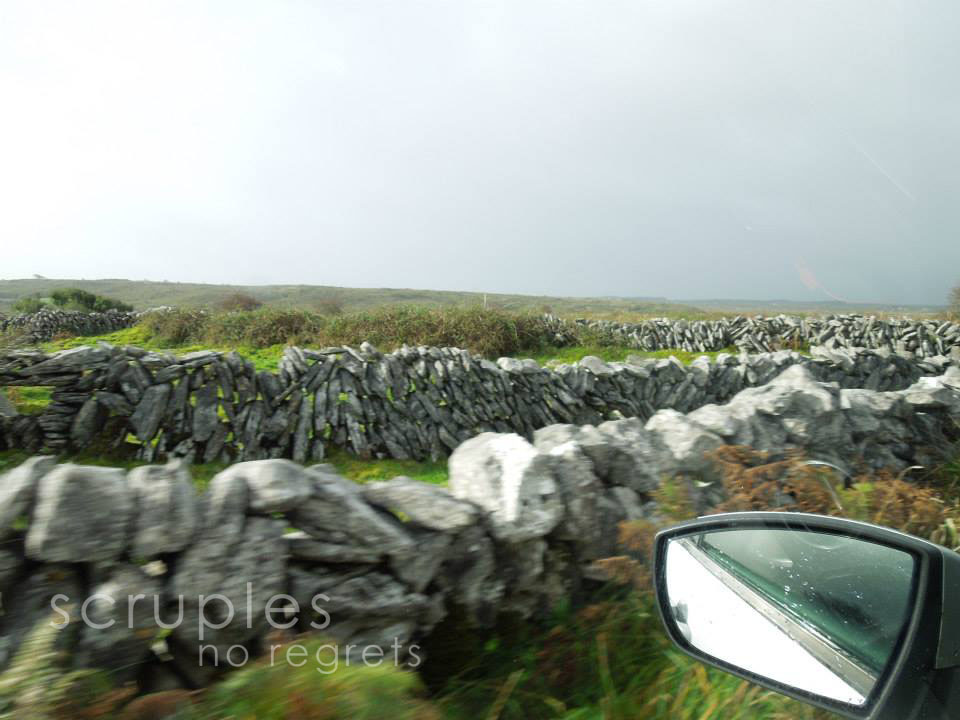 As a central location for a hotel, I booked us in the Auburn Lodge & Leisure Center which was, according to my map, about 1/2 drive to all three of our site-seeing destinations. The hotel was a bit older especially down the corridor where our room was, but it was a very good deal. We paid €84 per night and for an additional €10 per night a full Irish buffet breakfast was included. Well, I almost choked on my coffee on that when I was booking. Really? I asked. You're sure? €10 per person or per night? Now, if you don't have four children, you may not be aware of this. But feeding those four children can be expensive and breakfast can easily cost us €50 at a cafe with coffees. So, for the extra €10, we were able to feed the kids a giant breakfast every morning that included sausages, rashers, toast, cereal, breakfast breads, oatmeal, white/black pudding. I even think they had pancakes. It was fabulous! And on the first evening after we arrived, their dining room was still serving dinner. So, we decided to eat there out of convenience which made it nice that there was a restaurant on site in case you didn't want to go out since the actual city of Ennis was a 10 minute drive away.
The hotel also managed to squeeze in 2 extra cots into the room (which as a family room included 1 double bed and 2 singles). The kids thought this was fabulous that they each got their own bed. Our room was also at the end of the corridor next to the leisure center where the pool was located. The kids loved this (although it was bitterly cold running through the connector between the hotel and the leisure center). We were so surprised that swimming caps were required, but luckily, the leisure centre had them available for purchase. Crisis averted. There was also a special baby pool which helped with Miss Piggy and Lulu Belle. They were able to splash and play easily in this pool. Definitely no mini-fridges for keeping items cold which we had gotten used to in the US. This location was also conveniently located next to a Lidl, where you could get any sort of picnic foods you might need for your daytime excursions (and any emergency items like baby wipes and nappies, etc.).
On our first day, we headed straight for the Aillwee Caves. Well, it wasn't exactly straight. We went through some area that was called "Corkscrew Hill". Nice.
Miss Lulu went down first spewing barf onto her self and her blankies. I tried to pull over, but there were rock walls everywhere and no shoulder. I ended up pulling into someone's driveway so that we could clean her up. Thank goodness for baby wipes and hand sanitizer. Shortly after cleaning her up, we probably went 50 meters and she barfed all over herself again. We stopped a second time to clean her up. This time, we wizened up and spread a small hand towel (luckily I brought a couple from the hotel room) below her and then one over hear as a barf big. She was officially out of spare clothing now and was just basically sitting in her diaper on the seat.
We went another 50 yards, and this time the Puppy went down, cleverly barfing into an empty Pringles can. We were kind of like, what the hell? Once again there was no where really to pull over. So, we ended up in someone's driveway cleaning up #2. Now, Corkscrew Hill is definitely named accurately. Think the Corkscrew Roller Coaster at Cedar Point. Don't think that we were driving down gentle Irish lanes. This was hellish, steep, tight switchbacks on very narrow roads with high rock walls on each side. This combined with the fact that I was still getting used to driving a standard meant a lot of lurching and sudden braking. Poor kids. The barfing was inevitable. The car smelled like curdled milk and vomit. We cursed the gods and wondered why we let the kids have cereal and yogurt for breakfast. The Monkey had his head hanging out the window to get fresh air and Miss Piggy had her head in an empty Pringles can trying to hold down her own vomit.
We soldiered on to the cave, hoping that there would be a gift shop since the baby was fairly naked now, having been stripped of most of her soiled clothing post barf. Upon arriving, we drove past the Birds of Prey lane and up a steep narrow winding road to the small car park. When we finally arrived at the Aillwee Cave, we were damp, slightly sticky, and exhausted from cleaning up milky vomit. 25% of the children were naked and had no clean clothes. 100% of the children looked green and J didn't look too good himself after handling all the vomit clean up duty since I handled cleaning up the children. After parking we went straight to the gift shop and purchased a couple small tshirts to clothe Lulu and the Puppy. Sadly, no memorabilia with the Aillwee Cave logo on it. Instead we settled for kitsy cartoon Irish sheep. There were no bottoms to be found. But the shirt was sufficiently long that it could serve as a dress for Lulu and we settled them down to wait in the cafe the 30 minutes for the next tour to start. I think if the Aillwee Cave Gift shop considered the amount of vomiting children who make it up to their cave, they could make a merchandise killing if they stocked some essential baby and kid items in their shop.
While queuing, J asked me to get him a coffee. I asked for cream. They put a big blog of something that looked like butter into the coffee. I brought it back to J and told them they put butter in his coffee. In retrospect, it was probably clotted cream, but if you are new to Ireland, don't ask for cream with your coffee. They just put full-fat milk in their coffee here and it's very similar to half and half.
The tour was interesting and the kids loved hiking around in the dark cave and tunnels. I kept having flashbacks to scenes from the Descent, but we all made it out alive. We didn't have time for the Birds of Prey exhibit as I had planned for us to go to the Cliffs of Moher, but not calculating for barfing and being parked on the side of the road cleaning up said barf had put us behind schedule.
We were off to the Cliffs. It took us about an hour to drive there and the kids were so relieved to get out of the car. Unfortunately, it was very, very windy at the cliffs and Miss Piggy may have started screaming and crying after a little bit. We held on to the kids for dear life, because it seemed they might blow away and the cliffs, though majestic, were definitely deadly if you fall off. After a short bit walking around, I took the girls inside for a hot chocolate and to explore the gift shop while the boys and J hiked around the other side of the cliffs (the side with no fence!). They took some fun photos and experienced a little electrocution (the Puppy grabbed onto an electrified fence while holding hands with J and his brother).
After an exhausting day, we returned to the hotel and rested for an exciting day at Bunratty Castle and Folkpark the following day.
During the Holloween break, Bunratty Castle and Folkpark host a fabulous Halloween celebration at the folk park on the bank holiday Monday. I believe they close the park for the winter season November 1.  We didn't prebook tickets because we weren't positive which day we would go (I think it's a bit cheaper if you do). But we arrived when the park opened and purchased a family ticket for the castle and folk park. There were tons of kids dressed up and a lot of scary looking adults dressed in scary costumes and interesting ones on stilts wandering around in the castle and the folk park itself. They had special activities on and a magician performing in a building. They also had the usual buildings open.
The first thing we did was go straight to the haunted castle/zombie walk. I've always loved haunted houses and we queued anxiously at the door while we could hear screaming inside.

The Haunted House at Bunratty Castle & Folk Park
The people putting on the Haunted House definitely tune down the horror seeing all the small kids, but the kids had so much fun that we queued again. The second time we went through we were behind a group of teenagers and it was much more wild and loads more screaming. Luckily, the kids had been through it once and thought it was fantastic!
After the Haunted House, we wandered over to the folk park. In need of food, we followed the map to the cafe/restaurant and enjoyed a meal there. It was very busy, but everything came out quickly and everyone rotated in and out of the tables quickly.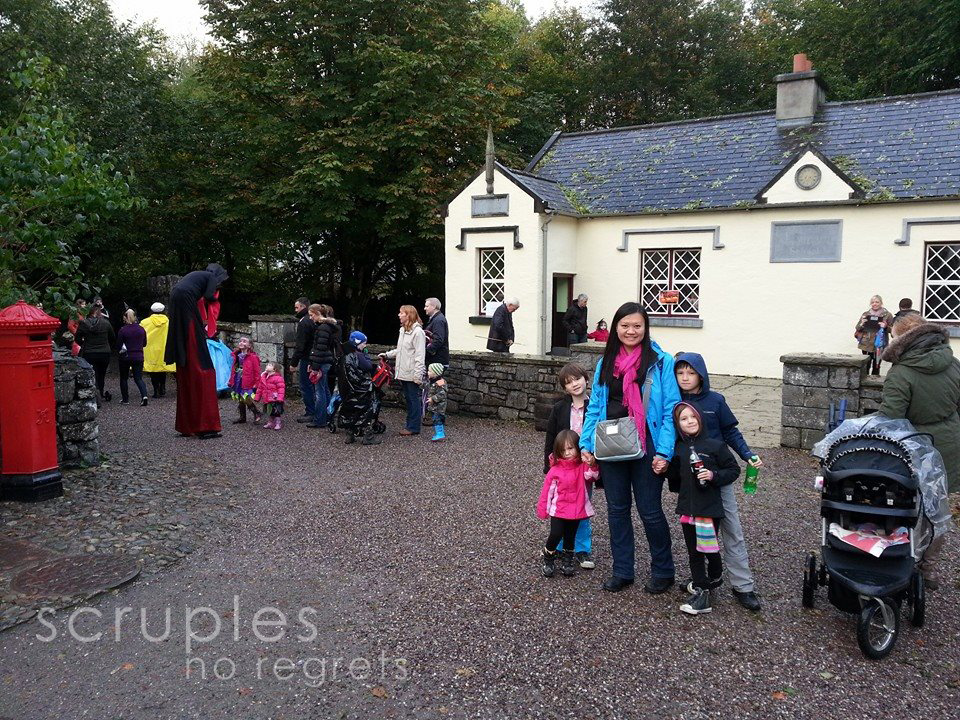 After lunch and exhausting our interest in the folk park, we decided to tour the castle. It was much better suited to a family with younger kids (yet able to walk on their own) than Malahide Castle. The tour was self-guided and the kids were free to run around explore the different corners of the castle. Several rooms,  including the dungeon, were staged for castle life which the kids found interesting. Lulu Belle enjoyed pointed out the creepy "dead" people sleeping or lying in the different rooms. The rooms on the different floors are all located off the very narrow winding staircases at each corner of the castle. So, this not the place for baby buggies. Get your baby carriers out! My kids, ages 5, 7, 9, were all able to manage the stairs on their own. J had to carry Lulu Bell (age 2) most of the time. We were frequently stuck behind people who found going up difficult or even down sometimes as well. So, beware! It is rigorous work!
After that busy day, we headed back to the hotel and stopped for pizza in Ennis on the way. We left the next morning for the 3 hour drive back to Dublin exhausted but happy we took a special weekend to do all this. Most important tip: Pack some anti-motion sickness medication!