Christmas in Ireland is an especially festive time of year. Without our American Thanksgiving to break up the long, dark winter stretch between Halloween in October until Christmas at the end of December, there is a long buildup to this special time of year and everyone seems to really get into the Christmas spirit with parties, Christmas jumpers, and getting together with friends and family. The decorations and twinking lights seem to go up fairly early in November to my American eye as I lament that we haven't even had a chance to celebrate Thanksgiving before we are bombarded with Christmas sales and deals.
It has also been nice to live in a place where Christmas is celebrated without the drama of people (I mean, you, Americans) arguing about the anti-Christmas Happy Holiday-ers and getting all worked up that people do or don't say Merry Christmas or Happy Holiday or the commercialization of a religious holiday. The Irish all say Happy Christmas or "Nollaig Shona Duit" and if you're not Irish or Christian, people are still happy to say Happy Christmas to you and you are happy to say it back because it is a Happy Christmas no matter what you personally celebrate. It is very nice to go about and hear people caroling at the shopping centres or out on the busy shopping streets and be just as likely to hear non-religious holiday songs about Rudolf as you are to hear traditional Christmas hymns. It's also very interesting to see that anything over the top commercialized that have gained popularity in recent years like giant lawn ornaments or lights on your house are often blamed on the American influence while still being embraced as a perfectly suitable way to make Christmas even bigger and better than it was before.
Well, when our kids finally got themselves out of school for Christmas break, we were excited to explore the enchanting Dublin at night during Christmas time (which starts at 4:30pm by the way). A few days into their break, we decided to take them into the city centre for a pleasant look at the lights and some hot chocolate, not because it's a lovely festive thing to do, but because my kids are completely ravenous as soon as we leave the house even if we may have just fed them a giant meal not 10 minutes before. And having hot chocolate takes up at least a good hour or more which stretches out the outing comfortably so that we can all say it was worth it to go into town for the afternoon! I'm also not above using it as a lure to keep the kids moving when their energy and enthusiasm wanes.
We spent a great deal of time wandering around and even made it all the way to O'Connell Street.
Then, the kids started in with the "When are we going home? When are we having hot chocolate business?" So, we meandered back down toward Grafton Street, wandered through a narrow, twinkly light filled alley to Clarendon Street and went into the Powerscourt Townhouse Centre which is really a gorgeous historic Georgian home that has been beautifully preserved and holds a variety of specialty shops and cafes. It was decorated beautifully for Christmas with beautiful white lights hanging from its ceilings. The main floor of the centre opened up into a large, loud, bustling open cafe with people seated at small tables enjoying their cups of tea and pastries. To get to the top floor, we had to pass by a small shop stocked to the top with hats and the glass lift allowed us a magnificent view of the sparkling trees and chandeliers hanging from the ceiling. Giant spangled evergreen wreaths hung down on either side of the hall.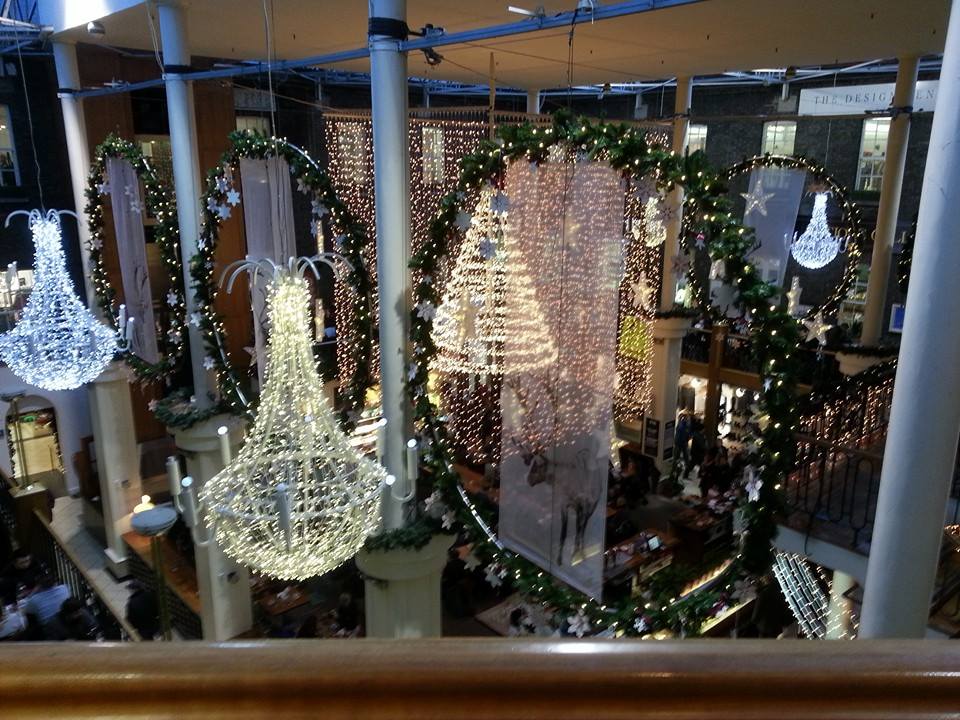 We took the tiny lift up to the top floor as we were interested in visiting the oldest Doll shop in Dublin and were not disappointed. The Doll Store is a doll museum and hospital as well and had magnificent doll displays and the children were very interested in looking at all the displays of miniature life. Tiny houses with little details like tiny china, cookware in miniature, detaileded fireplaces, and minuscule lamps. There were giant wooden dollhouses for sale and kits to make furniture and all sorts of household items in miniature. Of course, there was a giant display of Christmas candy and giant lollys that beckoned the children. It was difficult to resist, but we reminded them of their hot chocolates waiting in the near future.
While we were wandering around on the top floor, we passed by a curious window that displayed a large red velvet chair and stacks of festively wrapped presents. Reading a small sign by the door, we realized that it was a place to visit Santa during the Christmas season and the kids wondered where he had gone! Eventually, after we finished the dollhouse, we ran into Santa on his way back from his break and the children were very excited to see him and have a chat with him as he was on his way back to work to meet with other children.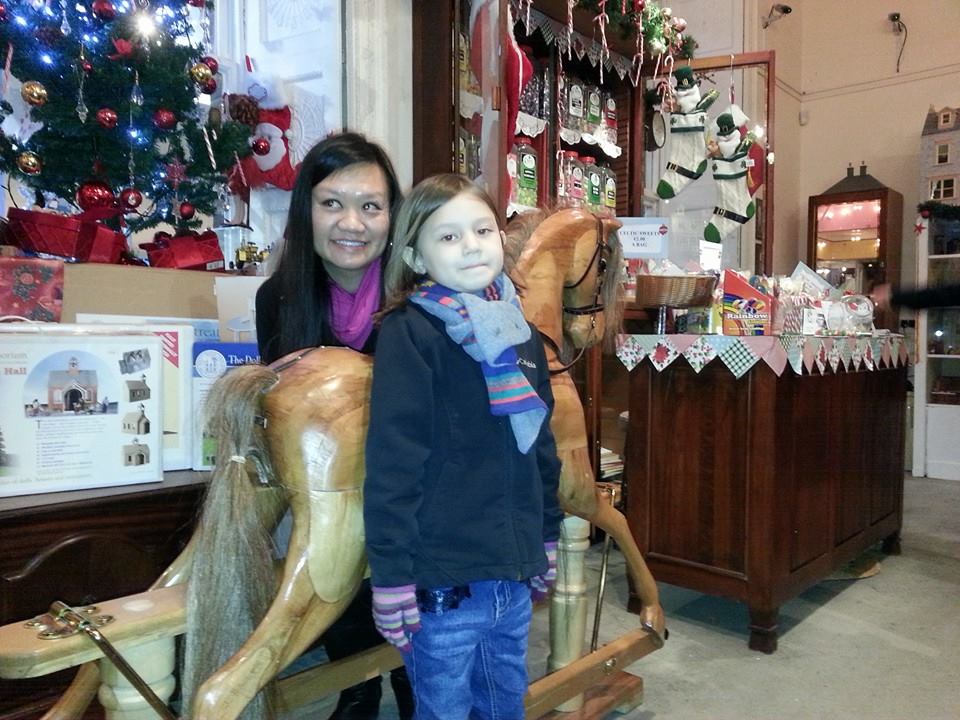 After our exciting visit with Santa, we decided it was finally time for refreshments. There was bustling restaurant on the top floor, but the tables were tiny and people were seated out on the very narrow walkway around the interior of the centre with waitstaff narrowly slipping by seated patrons with bowls and plates heaped with food. It didn't look like a good plan with four grouchy kids . So, we took the tiny lift downstairs again and wandered back to Grafton. We decided to try out Bewley's Cafe on Grafton and were seated in a little alcove a few flights up. The cafe was massive and very busy but the children enjoyed looking at all the memorabilia on the walls and wondering about the cafe's roots in the import of Chinese tea. They were also generously given crayons and paper for drawing and we settled in to wait for our food and drinks.
Everyone was quite happy with their experience at Bewley's Cafe and we headed home to the Luas afterward after a quick peak in the Disney Store on Grafton.