Drinking tea is an institution here in Ireland and even though I'm still trying to learn all the etiquette, I love the hospitality it represents. A cup of tea can vary between a casual cup shared with a friend or neighbor at your kitchen table with store bought cookies to a fancy affair with tiny sandwiches, fine bone china, and handmade miniature sweets and cakes.
When I first arrived in Dublin, a neighbor developed a habit of popping over to chat in the mornings after the kids left for school. I generally offered water, not realizing the breach of Irish etiquette, and I remember her asking me, "Do you not have some proper tea?"
I actually had to ask her to be more specific! What exactly is proper tea? I asked. I'm Asian (you know, that land from whence tea came), and I would think proper tea is a delicate Jasmine green tea. But what do you think proper tea should be?
She tried to explain it to me, rattling off a list of Irish brands of tea. So, the next I went to the shop, I bought a box and our love of Irish tea was born. As a child, I grew up drinking jasmine and green teas, fragrant and slightly bitter. Irish tea (like British) is a milky concoction, almost always with milk, sometimes with a little bit of sugar or lemon. I think it is always served with something sweet. So, I started keeping a small box of cookies or chocolate in the house especially for guests who might pop in unexpectedly.
When a local women's organization that I joined hosted a charity Afternoon Tea held at the Westin Hotel, I leapt at the chance to go! I wanted to experience all the tiny miniature foods on tiers of deliciousness! The Westin Hotel has two afternoon tea options – the traditional or an afternoon tea called "A Most Peculiar Afternoon Tea" which features a Victorian Mojito served in a teapot with a tea cup and saucer, non-traditional sandwiches and desserts.
The day of the tea, it was lashing rain and we skidded into the fancy foyer of the Westin, hoping the effort on our hair survived the torrential rain. Afternoon Tea is served in the Atrium Lounge, which is a wonderful airy room filled with cozy couches and tables.
We found ourselves seated on a low couch and several arm chairs. I realized then that I had made a mistake when selecting my dress for the tea. I really should have not worn a tight fitting dress and opted for a dress equivalent of stretchy pants. Eating and sitting down in tight dress? No. Good.
Fellow bloggers Kaman Ryan, Patrika, and I were looking fresh and fabulous before the tea service begins. Before the tea service began, we browsed beautiful handmade headpieces and fascinators by Sophie Hunter Millinery and interested raffle items donated by local businesses.
We all confirmed our orders for the Peculiar Tea. Soon, the teapots started appearing and the mojitos were presented in a cute little teapot and sieve. It didn't seem quite right drinking it from a bone china tea cup, but tasted refreshing and delicious.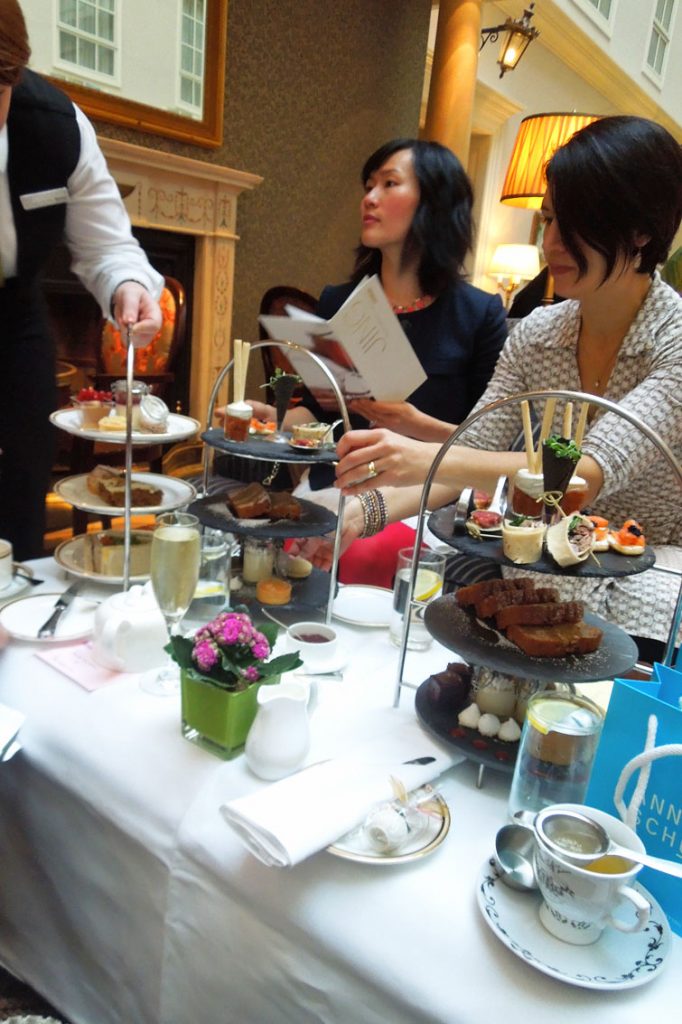 Shortly after everyone was served their three tiered stand of sweet and savoury goodies. Patrika and I shared a large stand and Kaman and another gal, who ordered the Traditional Tea, at our little table had separate smaller stands.
It was all gorgeous and delicious as expected. Each bite was extremely decadent and I love the idea of having of one or two bites of each savoury and cake like a sampler! My inner Martha is going 100mph thinking about how I can replicate this at home. And then I come crashing to reality that I would NOT spend this much time making tiny sandwiches!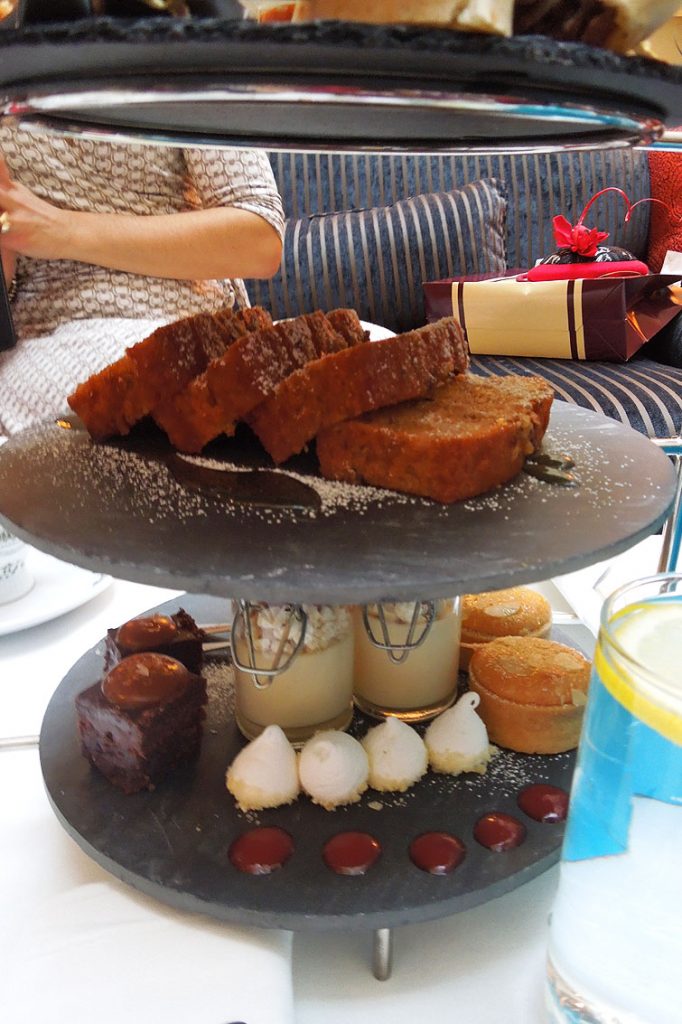 The "A Most Peculiar Afternoon Tea" at the Westin Hotel lived up to my expectations for a first Afternoon Tea experience in Ireland. It made me feel very posh and possibly Downton Abbey-ish, except that it wasn't exactly a traditional tea and I am Asian and would have never been cast in Downton Abbey. Am still hoping to be cast in Vikings though. They keep circulating flyers that they need Asian actors! Perhaps I should lobby Downton Abbey to include Asian storyline!
I'm excited to try other Afternoon teas in Dublin!