During the second week of my brother's first visit to Dublin, he stayed in the city centre with his girlfriend and we would meet up during the day or evening depending on their plans. On the Thursday of the week, I had booked a nice afternoon "art" tea for them at the Merrion Hotel but my brother and I decided to meet up for an early lunch since I would be in the city centre for a meeting. I decided to bring Lulubelle with me and the whole morning was made more exciting by the fact that the Luas drivers were all on strike. So, getting public transport into the city centre was horrific – none of the buses came. At last, I just hailed a cab and had them drop me off in town close to my meeting place and paid my €13. I was like, WHAT? Why did I wait so long for the BUS that never came?!?!
After my meeting, my brother walked up to meet us and we walked down Grafton. After a frazzled 20 minutes at the Disney Store trying to tear LuluBelle away from the Disney princesses as she went around embracing Belle and various statues, we made it back out onto the street. My brother was open to trying whatever food (we are foodie kindred spirits that way – all the way back to our high school years and our culinary adventures have gone from Hot N Now and Muzzy's to sushi, Malaysia, and whatever we fancy). Living in Ireland and married to a non-Asian, I am always desperate to eat authentic Asian foods that I can't make at home. So, we walked up to Ukiyo Bar on  Exchequer St. just off Sth Great George's St.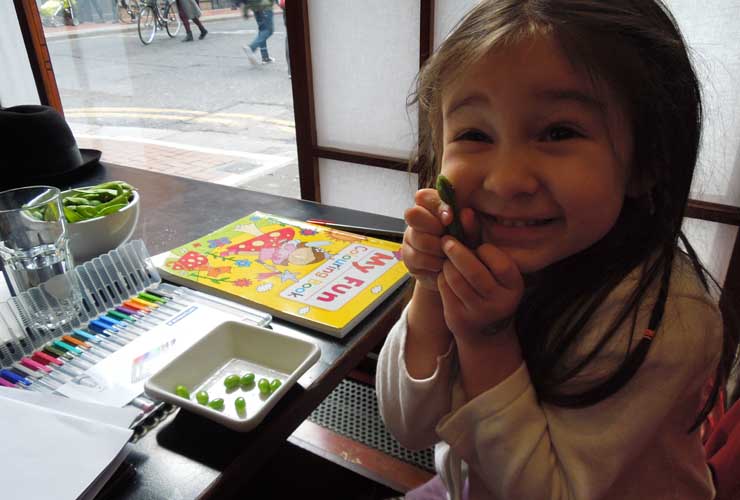 We both ordered the Sushi Bento (which at €16 wasn't the greatest deal, but very delicious, and to me more interesting than the regular bento). The waitress was very accommodating to Lulubelle and we ordered her some rice and edamame. Delicious and quick. It was perfect for a light meal, light but filling enough. The place was filled with loads of business people have very "business-y" type lunches. Another favourite Asian lunch place!